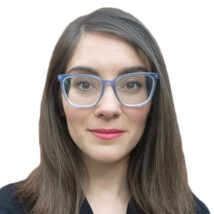 Meghan Rosen
Staff Writer, Biological Sciences, Science News
Meghan Rosen is a staff writer who reports on the life sciences for Science News. She earned a Ph.D. in biochemistry and molecular biology with an emphasis in biotechnology from the University of California, Davis, and later graduated from the science communication program at UC Santa Cruz. Her work has appeared in Wired, Science, and The Washington Post, among other outlets. Once for McSweeney's, she wrote about her kids' habit of handing her trash, a story that still makes her (and them) laugh. Support Science Journalism
Science News Explores is a nonprofit. Support us by donating now.
Donate
All Stories by Meghan Rosen
Brain

A detailed new map shows that people comprehend words by using regions across the brain, not just in one dedicated language center.