Welcome to Science News Explores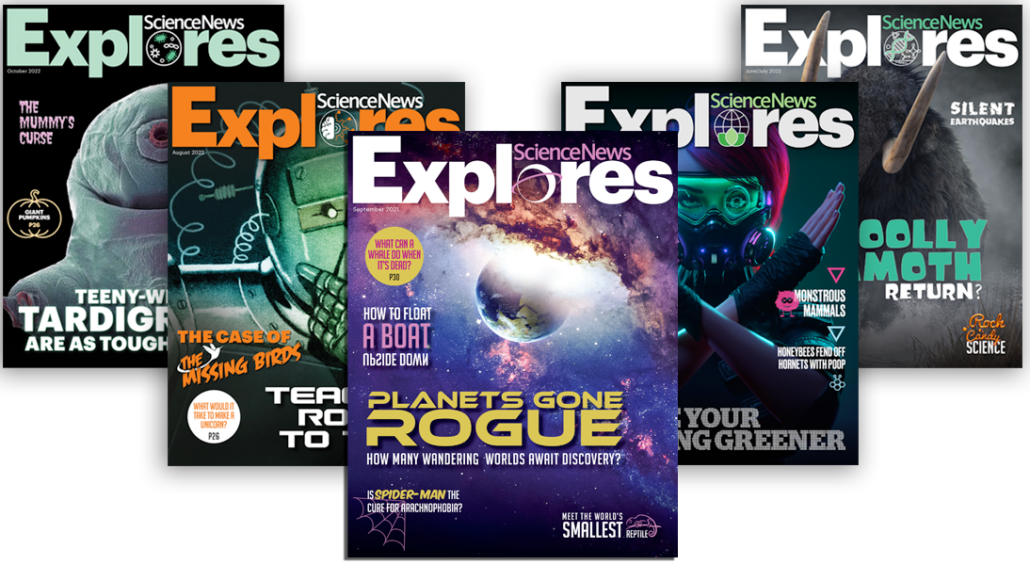 Welcome to Science News Explores
A new magazine written for curious kids ages 9 and up and their families. We created this magazine to help younger readers explore new discoveries across science, technology, engineering and medicine, and to share how research helps us all understand our world and our lives — all in a fun and accessible way.
Want to check it out? Download a sample issue for free!
Existing print subscribers: Renew Now
Want to subscribe? Choose an option:
To purchase a bundle of 10 issues for a school, please call Science News subscriber services at 1-800-552-4412
Questions about the magazine and its content?
Email explores@sciencenews.org
Questions about subscriptions? Email subscriptions@snexplores.org or call 1-855-478-5081
How many issues will I get?
Science News Explores is published 10 times per year.
What's inside the magazine?
Every issue is full of fascinating facts, astonishing photos, exciting stories and fun experiments and activities. We answer science questions posed by our young readers to help them to explore their own curiosity. And we also profile scientists and engineers who will inspire young readers to explore careers in STEM.
Who writes the stories in Science News Explores?
Our experienced science journalists are some of the best in the world. Though many have PhDs in science, they're pros at describing things in ways kids can understand. We make sure that the science is accessible to all, but we don't dumb it down.
Why should I buy a print magazine when the internet is free?
There's ample evidence that too much screen time isn't good for young minds. Research has shown that reading in print can provide many educational benefits, including better reading comprehension, over online resources. And a magazine is perfect for sharing, and reading again and again.
What's more, Science News Explores is published by Science News, an independent nonprofit news organization that's been covering the latest discoveries for the public since 1921. We have a stellar reputation for being both accurate and engaging. Try our new magazine, and we think you'll agree.