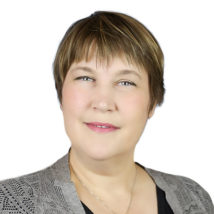 Tina Hesman Saey
Senior Writer, Molecular Biology, Science News
Science News senior writer Tina Hesman Saey is a geneticist-turned-science writer who covers all things microscopic and a few too big to be viewed under a microscope. She is an honors graduate of the University of Nebraska-Lincoln where she did research on tobacco plants and ethanol-producing bacteria. She spent a year as a Fulbright scholar at the Georg-August University in Göttingen, Germany, studying microbiology and traveling. Her work on how yeast turn on and off one gene earned her a Ph.D. in molecular genetics at Washington University in St. Louis. Tina then rounded out her degree collection with a master's in science journalism from Boston University. She interned at the Dallas Morning News and Science News before returning to St. Louis to cover biotechnology, genetics and medical science for the St. Louis Post-Dispatch. After a seven year stint as a newspaper reporter, she returned to Science News. Her work has been honored by the Endocrine Society, the Genetics Society of America and by journalism organizations. Support Science Journalism
Science News Explores is a nonprofit. Support us by donating now.
Donate
All Stories by Tina Hesman Saey
Tech

A new device can detect from seven to 35 coronavirus particles per liter of air in minutes. That's close to a PCR test's sensitivity — but much quicker.