Tortoise-studying teen takes top Broadcom prize
Eighth-grader who researched "dancing" endangered tortoises wins first place at national competition for middle-school researchers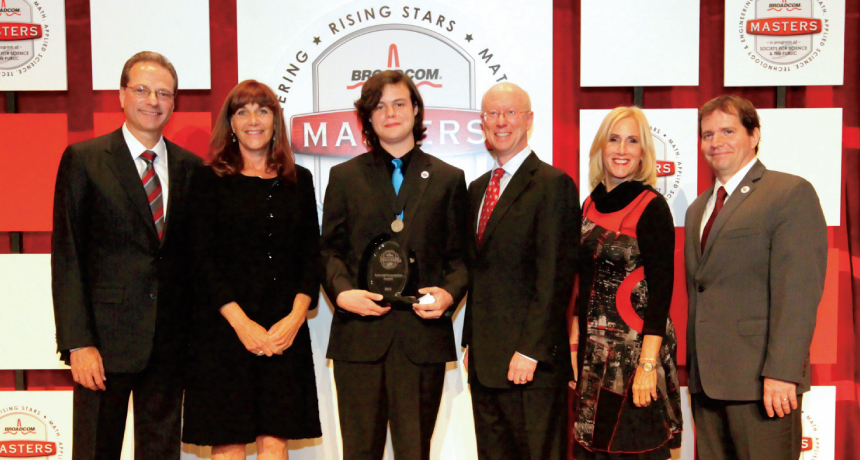 WASHINGTON — Even a tortoise enthusiast can speed through a three-day gauntlet of science, engineering and math challenges to claim victory. River Grace, 14, from West Melbourne, Fla., did just that. At an awards ceremony Oct. 1, he picked up the top prize — an educational award of $25,000.
The teen was one of 30 finalists from 17 states who came to Washington, D.C., for the third annual Broadcom MASTERS competition. (MASTERS stands for Math, Applied Science, Technology and Engineering for Rising Stars.) The Samueli Foundation, a nonprofit organization created by Broadcom cofounder Henry Samueli, provided River's winnings. Nine additional finalists took home major cash awards or funding to attend a science camp of their choice.
The Broadcom Foundation and Elmer's Products together provided more than $500,000 in awards for this year's Broadcom MASTERS participants, including finalists, semifinalists, their teachers and schools.
"I had no idea I'd win this," said River. "Any one of us could have won, we were all so deserving."
Although finalists qualify on the basis of a middle-school science fair project, Broadcom MASTERS is not a science fair. A student's entry project will, in fact, account for only about one-quarter of his or her eventual score.
River's entry project described an unusual swaying behavior in an endangered species of tortoise. The animals lived at a captive breeding facility where he volunteers. In a project he called "The Rain Dance of the Radiata," the teen observed how the tortoises rise up on their legs and sway back and forth whenever it rains. At first, he thought the strange behavior might help the tortoises better avoid drowning during flash floods, which sometimes occur in their native Madagascar. (It's an island nation off Africa's southeastern coast). River conducted tests that disproved that notion. However, he notes, the true purpose of that swaying dance remains unknown.
The rest of River's winning score reflected his performance in a series of science challenges. During a two-day stretch, judges in the contest divided the finalists into five-member teams. Each team designed, built and tested everything from electrical circuits to models of wind turbine blades, roller coasters and tall buildings. Other, less hands-on tasks included analyzing data to figure out the cause of a massive fish kill. They also deciphered which parts of stone carvings left by the Maya denoted numbers representing dates of important events.
Eitan Acks, 14, of San Diego, Calif., came in second place, earning the Marconi/Samueli Award for Innovation. This includes a cash award of $10,000. The teen's younger brother has a medical condition called dyspraxia. A lack of muscle tone in his face and tongue makes it hard for him to speak clearly. This inspired Eitan to design several versions of a device to help strengthen those weaker-than-normal muscles.
By attaching a tongue depressor to a joystick, the teen developed a way to exercise a patient's tongue and facial muscles. At the same time, the device collects data to chart its user's progress. Such data collection is often missing from current speech therapy, he says. By using the device regularly, Eitan's brother showed steady improvement in muscle strength.
This year's crop of finalists included 14 girls and 16 boys. They tackled a variety of topics. One boy analyzed ways to boost the performance of wind turbine blades (hint: make them look more like a whale's fins). One girl studied how moving air through a beehive cools it and improves the health of bees (which then make better honey). Another boy made a device that duplicates specific scents by releasing mixtures of chemicals (smell-o-vision, anyone?).
STEM awards
Eight finalists earned first- or second-place awards in four different areas: science, technology, engineering and mathematics. Collectively, these fields are abbreviated as STEM. These first- and second-place awards (worth $3,500 and $2,500 respectively), are to help cover the costs of attending a STEM-oriented camp of each winner's choice. All of these STEM winners also take home an iPad.
Science awards:
First place: Keoni Gandall, 14, Huntington Beach, Calif., who studied how to genetically engineer salt-loving bacteria.
Second place: Julienne Sauer, 14, San Ramon, Calif., who studied materials called superconductors.
Technology awards:
First place: Austin McCoy, 13, Rochester, Minn., who developed a cheaper, easier automated method to conduct DNA analyses.
Second Place: Rebecca Bloomfield, 14, Colorado Springs, Colo., who studied ways to minimize erosion after a wildfire.
Engineering awards:
First place: Mihir Garimella, 14, Pittsburgh, Pa., who developed a device that can duplicate specific scents.
Second Place: Sidhika Balachandar, 13, Gainesville, Fla., who analyzed different techniques for soundproofing a room.
Mathematics awards:
First place: Johann Kailey-Steiner, 13, Denver, Colo., who studied ways to reduce aerodynamic drag on model rockets.
Second Place: Joshua Wentzel, 14, Portland, Ore., who analyzed the performance of a home-built air cannon.
Two finalists earned Rising Stars Awards for enthusiastically embracing the spirit of cooperation during team challenges: Krystal Horton, 11, of Menifee, Calif., and Sean Weber, 13, of Sequim, Wash. Horton conducted a field survey of an invasive, tree-killing beetle in the county where she lives. Weber studied the mussels that grip the rocks along the shore in the area where he lives. They earned trips to the May 2014 Intel International Science and Engineering Fair (ISEF), in Los Angeles. It's the world's largest international high school science fair competition.
"Congratulations to River and to all of our extraordinary finalists," said Paula Golden, executive director of the Broadcom Foundation, based in Irvine, Calif. Their STEM and leadership skills "represent the total spectrum of talent needed to take on the world's biggest challenges in technology, healthcare, transportation and sustainability."
"Each finalist should be terrifically proud of their accomplishments and we look forward to following their bright futures," said Rick Bates, interim chief executive officer of Society for Science & the Public. SSP runs the Broadcom MASTERS competition, the Intel ISEF competition and the Intel Science Talent Search. SSP also publishes Science News and Science News for Kids.
Power Words
captive breeding The breeding of an animal, often a species threatened with extinction, in a protected environment. The species is often raised in part to supply animals for reintroduction back into the wild.
dyspraxia A mild form of apraxia, a disorder where people have trouble making skilled gestures or movements. A neurological disorder, dyspraxia results from damage to the central hemispheres of the brain (sometimes due to disease). The most common form makes it hard for people to make the facial movements they desire, such as lip-licking, whistling, coughing or winking.
engineering The field of research that uses math and science to solve practical problems.
Maya A native American culture developed by people who lived between 2500 B.C. and 1500 A.D. in what is now parts of southern Mexico (its Yucatan Peninsula) and Central America. At its height (between about 250 and 900 A.D.), the density of people in some Mayan cities was equal to that in Medieval Europe.
STEM An acronym (abbreviation made using the first letters of a term) for science, technology, engineering and math.
technology The application of scientific knowledge for practical purposes, especially in industry.
tortoise Any of various turtles that live on land.