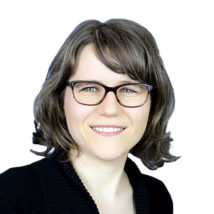 Emily Conover
Physics, Senior Writer, Science News
Physics writer Emily Conover loves physics for its ability to reveal the secret rules about how stuff works, from tiny atoms to the vast cosmos. Before becoming a science journalist, she studied physics at the University of Chicago. There, she investigated the weird ways of tiny particles called neutrinos. She has previously written for the Milwaukee Journal Sentinel, Science Magazine and the American Physical Society. She is a two-time winner of the D.C. Science Writers' Association Newsbrief award. Support Science Journalism
Science News Explores is a nonprofit. Support us by donating now.
Donate
All Stories by Emily Conover
Physics

Scientists have been looking for "dark" matter. It's supposed to make up most of the universe — but it's also invisible. X-rays may now point to where some of this weird stuff is.