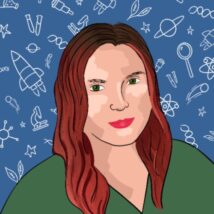 Sarah Zielinski
Editor, Print at Science News Explores
Sarah Zielinski is the Editor, Print for Science News Explores. A former editor at Smithsonian magazine, she has been published in Scientific American, Discover, National Geographic News, Science and Slate. She shared a Gold Award in the Children's Science News category of the 2022 AAAS Kavli Science Journalism Awards for a trio of Wild Things comics and has also received two DCSWA Science News Brief Awards and an honorable mention. She has a B.A. in biological sciences from Cornell University and an M.A. in journalism through New York University's Science, Health and Environmental Reporting Program. She has three cats: Oscar, Saffir and Alani. Support Science Journalism
Science News Explores is a nonprofit. Support us by donating now.
Donate
All Stories by Sarah Zielinski
Animals

Scientists have found DNA evidence that in the wild, sawfish have produced offspring without mating. That's a first for an animal with a backbone.