The 2016 Intel Scientist Talent Search on Twitter and beyond
Check out the STS Gala, from Twitter to Instagram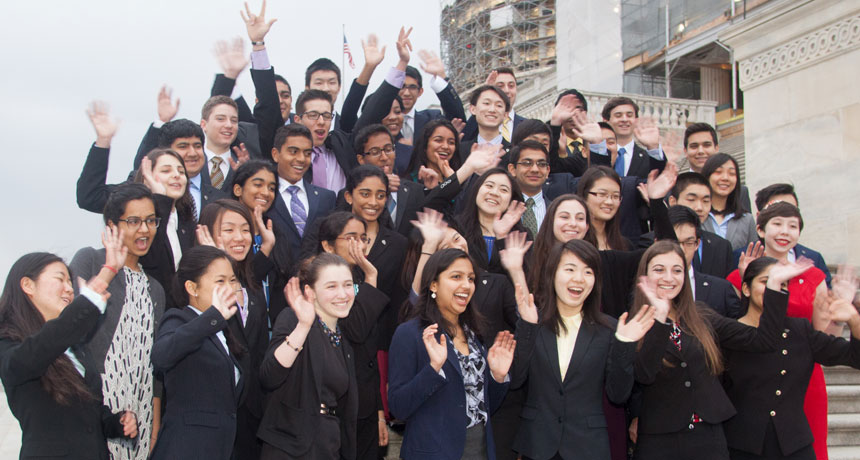 WASHINGTON, D.C. — When teens decide to solve problems, great things can happen. One teen made software to spot new targets for drug discovery. One made a device to help people in developing countries diagnose lung problems. A third examined pollutions in streams, and came up with a way to get some of that pollution out. These three high school seniors are the top winners of the 2016 Intel Science Talent Search. They received their $150,000 awards at a gala event March 15 at the National Building Museum.
This year marked the 75th anniversary of the Science Talent Search. Run by Society for Science & the Public and sponsored by Intel, the competition brings together 40 high school seniors to share their research projects with the public and compete for huge prizes. Intel offers three $150,000 awards. Each of the three celebrates an aspect of scientific discovery: basic research, benefits to humankind and innovative technologies. 
Eureka! Lab live-tweeted from the gala (follow @eureka_labs), and we have collected the tweets and articles about the finalists below. Congratulations to all 40 finalists for their hard work!
Intel Science Talent Search Gala 2016
Celebrating 75 years! Run by the Society for Science & the Public, the Intel Science Talent Search brings 40 of the brightest high school students in the country to Washington, D.C. to share their research projects with the public.
 

 

 

 

 

 

 

 

 

 

 

 

 

 

 

 

 

It's the first time in the history of competition that women outnumber the men!

 

 

 

 

.

@neiltyson

says "the problem isn't scientifically illiterate children, it's scientifically illiterate adults"

#IntelSTS #STS75

 

 

"If you maintain curiosity through middle school and high school, you basically become a scientist." –

@neiltyson #IntelSTS #STS75

 

 

"For many circumstances in life, the answer is not as important as the pathways you explore to get there." –

@neiltyson #IntelSTS #STS75

 

 

"If you are curious and that's driving your life? It won't matter at all what college you go to." –

@neiltyson #IntelSTS #STS75

 

 

Tyson emphasized that if you do great things, it won't matter how many prizes you've won or where you went to school, your accomplishments will speak for you.

 

 

And now, the real stars of the evening.

 

 

 

 

 

 

 

 

Teen hunts exoplanets at our galaxy's center

WASHINGTON, D.C. – Some scientists look for new planets by gazing through powerful telescopes. But Claire Burch, 17, didn't have one of those. Instead, the senior at Mira Loma High School in Sacramento, Calif., searched for new exoplanets – planets outside our solar system. All she needed was her laptop and some computer code.

 

 

 

 

 

Tiny particles help plastic break down in the sun

WASHINGTON, D.C. – Tossing a plastic bag out of a car window isn't just rude. It creates a huge problem. That's because when plastic enters the environment, it can take years – if not a century – to go away.

 

 

 

 

 

 

 

 

 

 

 

 

 

 

 

 

 

 

 

 

 

 

 

 

 

 

 

 

 

 

 

 

 

 

 

 

 

 

 

Teen adds tiny bits of clay to make cement go with the flow

WASHINGTON, D.C. – Science is all around us, even in the concrete sidewalks under our feet. Most people might not think much about cement. It's what binds together the rocky components of the concrete used in buildings, bridges and roads. But cement did catch the attention of Augusta Umwamanzu-Nna.

 

 

 

 

 

 

 

 

 

 

 

 

 

 

 

 

 

 

 

 

 

 

 

 

 

Now FIRST PLACE, receiving $150,000 each!