Young researchers take home almost $5 million at 2019 Intel ISEF competition
Three top winners created medical advances; fourth developed jellyfish-inspired system for aquatic propulsion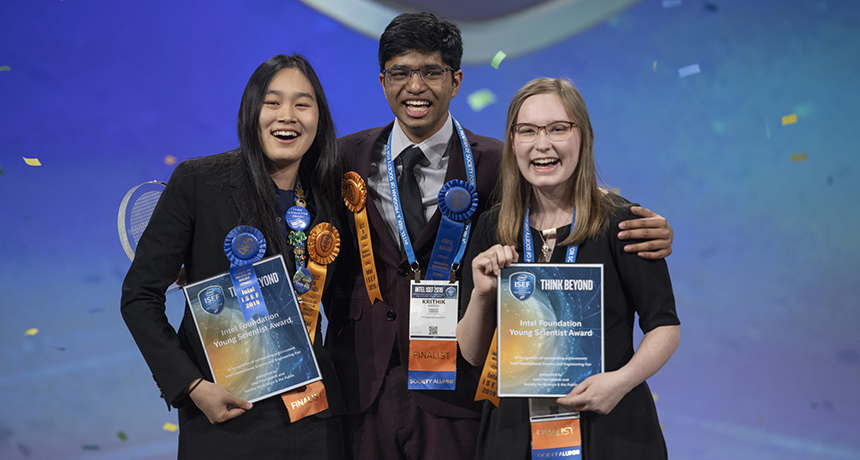 PHOENIX, Ariz. — More than 1,800 teen researchers came to the Valley of the Sun this week. Those who shone brightest took home big prizes from the Intel International Science and Engineering Fair, or ISEF. Top winner Krithik Ramesh earned $75,000. He developed a system to help spinal surgeons perform operations more accurately and more quickly. At its heart is a Pokémon Go–like augmented-reality system.
"This is surreal and very humbling," Krithik said upon learning of his award this morning.
"There's a lot to process right now." This 16-year-old attends Cherry Creek High School in Greenwood Village, Colo.
Krithik's project claimed the Gordon E. Moore award. It's named for Intel's co-founder. Other winners took home sizeable awards as well, this year. In all, almost one in every three of this year's ISEF finalists received some sort of recognition for their research. Together, these awards totaled about $5 million.
ISEF has been honoring young researchers since 1950. This competition was created and is still run by Society for Science & the Public, or SSP. It is the world's largest international pre-college science competition. Now sponsored by Intel, the 2019 ISEF brought together students from more than 80 countries, regions and territories.
"I am inspired by all of the ingenuity on display this week," said SSP President Maya Ajmera. She's also the publisher of Science News for Students. "Congratulations to our winners and all our finalists who are demonstrating that world-changing ideas can come from anywhere in the world."
Surgeon's helper
Whether you're putting together a piece of furniture or an injured patient's spinal column, it helps to have an instruction manual and diagrams. Usually, a surgeon figures out the best way to perform an operation by studying a patient's X-rays and other scans.
But Krithik developed a high-tech system that adds a touch of virtual reality. It relies on a visor-like headset. Its see-through screen displays a computerized image of what the patient's spine should look like after surgery.
Krithik tested his system by analyzing thousands of publicly available medical scans of patients' spines. Some X-ray-based 3-D scans were taken by computerized tomography. Others had come from magnetic-resonance-imaging. The teen also analyzed data from 34 actual surgeries.
His tests showed that his system could map a patient's spine and suggest the correct surgical approach almost 97 percent of the time. The system also pinpointed where any plates, rods or screws should go. And it pinpointed their recommended placement to within 1.33 millimeters (1/20th of an inch).
The new system could readily replace the current method of navigating during surgery, says Krithik. Currently, doctors use a piece of equipment called a fluoroscope. In essence, it provides continuous real-time X-rays of a patient's body. That means it also exposes both the patient and the surgical team to a lot of radiation. Another benefit of Krithnik's system: The headset is portable. That means it should be possible to use it not only in urban hospitals, but also in remote clinics or war zones.
Besides winning ISEF's top prize, Krithik's project was the top winner in the biomedical engineering category.
When brain cells die
A protein known as tau helps transport a variety of substances throughout brain cells. In its normal form, called "native tau," it helps nutrients and wastes shuttle around a cell. But when that protein becomes oddly folded, it doesn't work right, explains Allison Jia. The 17-year old attends The Harker School in San Jose, Calif.
Misfolded tau proteins clump together in brain cells. This interferes with their function. These so-called "toxic tau" proteins can even lead those cells to die, Allison notes. In fact, this tau clumping and cell death is suspected of playing a major role in Alzheimer's disease.
In living patients, doctors don't really have a good way to follow tau clumping or its effects. Allison made that her goal.
For her project, Allison found a way to make tau proteins easy to see. She tagged the proteins with nanometer-sized particles of semiconductor materials called quantum dots. (They're made from the same material found in computer chips). When illuminated with ultraviolet light, the dots glowed, which made them easy to track.
She could clearly see the tagged proteins move inside a living brain cell growing in a dish. She also saw that when the toxic tau bumped into a native tau protein, the normal protein took on the toxic protein's odd shape. It's not clear why, she says. But what she witnessed could mimic how tau proteins inside the brain of an Alzheimer's patient behave, causing the disease to progress.
Results of Allison's tests could help scientists better understand how tau proteins move within cells, she says. They also might help researchers test possible treatments in living cells.
Allison received $50,000 as one of two Intel Foundation Young Scientist Award winners this year. Her research also claimed top prize in cellular and molecular biology.
Jellyfish propulsion
Jellyfish appear to be lazy swimmers. But maybe it's better to think of them as "energy efficient," says Rachel Seevers, 17. She's a senior at Paul Laurence Dunbar High School in Lexington, Ky. Jellyfish and their relatives take in a limited number of calories but often need to travel long distances. Rachel wondered if engineers could take advantage of the creatures' tricks for efficient movement.
In a sense, jellyfish are jet-powered. They slurp water into their "bell," the cavity in their dome-shaped body, then squeeze it out. But they don't send out a concentrated jet of water, as squid and octopuses do. Instead, a jellyfish squeezes out a donut-shaped swirl of water called a ring vortex. (Think of it as the underwater version of a smoke ring blown by a cigar-smoker.) Sending a ring vortex downward propels the body of a jellyfish upward.
Rachel's aim has been to improve the energy efficiency of autonomous underwater vehicles, also known as AUVs. These sometimes look like torpedoes with wings — nothing like jellyfish. AUVs are usually driven by a battery-powered propeller. Rachel took that propulsion design and then added a pump that could send a ring of water jets out the back and around the propeller.
Rachel couldn't make the torpedo flex as a jellyfish does. But she was able to simulate the animal's repeated spurts of jet propulsion. She did that by having the pump cycle on and then off for a few seconds at a time. Meanwhile, its propeller spun nonstop.
Rachel's propulsion model was able to provide 37 percent more oomph from the same amount of battery power than a traditional AUV propeller alone. That could be a big boost for UAVs like those that scientists use to study the ocean. The teen hopes her jellyfish-inspired system might one day lead to data gathering missions that can travel farther on a single charge.
Rachel's project led the pack in engineering mechanics. And like Allison, Rachel snagged one of the Intel Foundation Young Scientist Awards worth $50,000.
No-pain cancer screening
Melanoma is the deadliest form of skin cancer. More than 9,000 people die from it in the United States each year. But statistics show that when caught early, 90 percent of patients can be cured, notes 15-year-old Shriya Reddy. She's a 10th-grader at Northville High School in Michigan. Currently, she notes, taking a biopsy — a small chunk of tissue for analysis — is the best way to diagnose the disease. But such a test can cost hundreds of dollars. Plus, it can take two weeks for test results to come back to the doctor. The biopsies also can be painful and the extraction site may even get infected.
Shriya's advance was the creation of a new type of contrast agent. Think of it as a dye. It's some substance that helps doctors visually discriminate between different types of tissue (such as cancer versus normal). The main ingredients in her contrast agent are antibodies that bind better to melanoma cells than to healthy cells. To make them show up, she found a way to bond tiny nanospheres of gold to these antibodies. Clumps of those tiny particles show up as bright spots when they're illuminated with near-infrared light. Shriya's tests revealed that cancerous spots showed up best when the gold nanospheres measured between 5 and 10 nanometers (or about 20- to 40-billionths of an inch) across.
Here's how Shriya's new test would work. Doctors would dab a small bit of cream or oil containing the gold-tagged antibodies onto a patient's skin. Then they'd shine the near-infrared light on the suspicious spot. Healthy cells would remain dark. Cancer cells, in contrast, would glow brightly. Such a test not only would be painless, but results also would be available at once. If a test suggested the spot was cancerous, the doctor could schedule a biopsy to confirm the diagnosis.
Doctors now conduct about 1.5 million biopsies for melanoma each year. Shriya estimates that if her new test had been used on these patients first, 60 percent of them would have avoided the need for that painful biopsy. Avoiding unneeded biopsies, she says, also could save hundreds of millions of dollars in healthcare costs each year.
Shriya's project was deemed best in the biomedical and health sciences category. It also claimed the newly established Craig R. Barrett Award for Innovation. It brought the teen $10,000. (This award is named for a former chief executive officer of the Intel Corp.)
Other major Intel ISEF 2018 award winners
The following students each won best-of-category awards worth $5,000 in this year's competition:
Animal Sciences: Dylan Bagnall, 17, and Richard Beattie, 17, of The King's Hospital School in Dublin, Ireland
Behavioral and Social Sciences: Giovanni Santucci, 18, of Ossining High School in Ossining, N.Y.
Biochemistry:  Annika Morgan, 18, of Joel Barlow High School in Redding, Conn.
Chemistry: Helena Jiang, 16, of F.W. Buchholz High School in Gainesville, Fla.
Computational Biology and Bioinformatics: Jason Ping, 17, of Bergen County Academies in Hackensack, N.J.
Earth and Environmental Sciences: Katie Lu, 18, of Central High School in Springfield, Mo.
Embedded Systems: Max von Wolff, 19, of Megina Gymnasium Mayen in Mayen, Germany
Energy: Chemical: Shicheng Hu, 17, of Shanghai Foreign Language School Affiliated to SISU in Shanghai, China
Energy: Physical: Joonyoung Lee, 17, and Mincheol Park, 18, of Korea Science Academy of KAIST in Busan, South Korea
Environmental Engineering: Adyant Shankar, 17, of Nashua High School South in Nashua, N.H.
Materials Science: Adrien Jathe, 17, of Metropolitan School Frankfurt gGmbH in Frankfurt, Germany
Mathematics: AnaMaria Perez, 17, of Albuquerque Academy in Albuquerque, N.M.
Microbiology: Poojan Pandya, 16, of Half Hollow Hills High West School in Dix Hills, N.Y., and Leo Takemaru, 16, of Ward Melville High School in East Setauket, N.Y.
Physics and Astronomy: Kaylie Hausknecht, 17, of Lynbrook Senior High School in Lynbrook, N.Y.
Plant Sciences: Amara Ifeji, 17, of Bangor High School in Bangor, Maine
Robotics and Intelligent Machines: Kevin Meng, 16, of Plano West Senior High School in Plano, Texas
Systems Software: Adam Kelly, 17, of Skerries Community College in Skerries, Ireland
Translational Medical Science: Hannah Herbst, 18, of Florida Atlantic University High School in Boca Raton, Fla.
Six "best of category" winners also earned trips overseas. Others will visit science fairs or attend youth science forums in Europe. Some of the roughly 600 winners at this year's competition even won college scholarships.
Intel is proud, said Pia Wilson-Body, to honor "all of the ISEF finalists on their innovative work." She's president of the Intel Foundation. "The work they are doing has the potential to make a better tomorrow for all of us."