New movie on the little robotics team that could
Underwater Dreams describes a winning robot built with hopes, dreams and PVC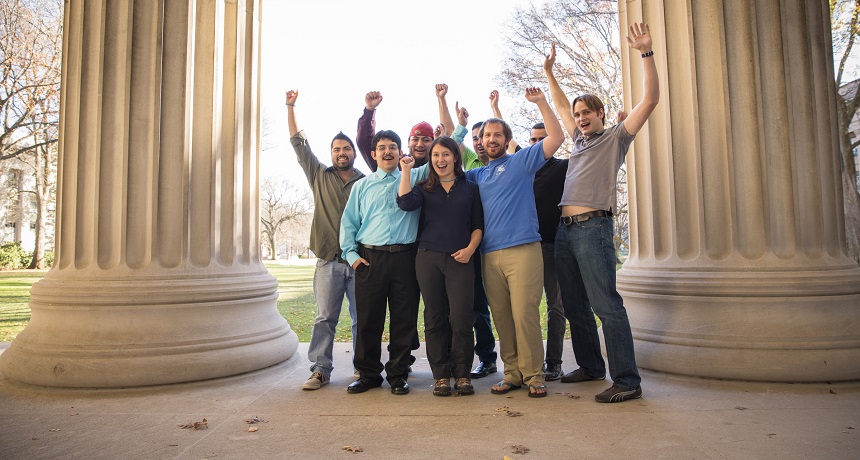 It sounds like a story you'd read on the Internet. A group of poor school kids built a robot. You'll never believe what happens next! But once in a while, those headlines can hide an inspirational — and true — story. A new film from 50 Eggs films offers just such a fairy-tale-come-true, in the form of a moving and inspirational two-hour documentary: Underwater Dreams.
It shares the heart-warming story of an underwater robotics team at Carl Hayden Community High School in Phoenix, Ariz. Ninety percent of its students come from low-income Hispanic families. Many of the teens are undocumented. In 2004, two teachers entered the school in the Marine Advanced Technology Education college underwater robotics competition. You read that right. It was a college competition.  The teachers figured that if their kids lost, at least they would lose out at the college level.
So they recruited four kids to build a robot from PVC pipe, small computer parts and glue. The teens named their robot  Stinky. When the time came, they took off for the University of California, Santa Barbara, where the competition would take place. The Carl Hayden group would be up against college powerhouses, including the robotics team from the Massachusetts Institute of Technology. And yes, the high school teens won.
But the story doesn't end there.
Watching this movie won't teach you much about underwater robots. Instead, the movie highlights challenges the Phoenix kids faced, both in their 2004 competition and now, as they struggle with their illegal status. Deeply moving and well put together, the film shows you the highs of their robotics win and the lows of watching one of the team members deport himself in the hopes of obtaining legal work in the United States. The drama does not shy away from intensely political messages. But it also shows how much kids can achieve when they are provided mentorship and a chance to try something new. Especially poignant, we see how even a national robotics title isn't always enough for success. 
The documentary itself is available in English or Spanish for $29.95 for private use and $199.95 for educational use. But the group wants it seen by as many teens as possible. So it has arranged to make up to 100 free screenings available. Teachers who can gather at least 100 students for the screening can submit a request to AMC Theaters. All requests must be submitted before October 1, 2014.
Follow Eureka! Lab on Twitter
Power Words
engineer  A person who uses science to solve problems. As a verb, to engineer means to design a device, material or process that will solve some problem or unmet need.
engineering   The field of research that uses math and science to solve practical problems.
polyvinyl chloride  Also known as PVC, this is a plastic formed by using heat to turn a liquid resin into a solid. The plastic can be soft and flexible or rigid and hard. The raw ingredients consist primarily of chlorine and carbon.
robot  A machine that can sense its environment, process information and respond with specific actions. Some robots can act without any human input, while others are guided by a human.