Students find science answers through Twitter
A high school science teacher has students tweet questions to experts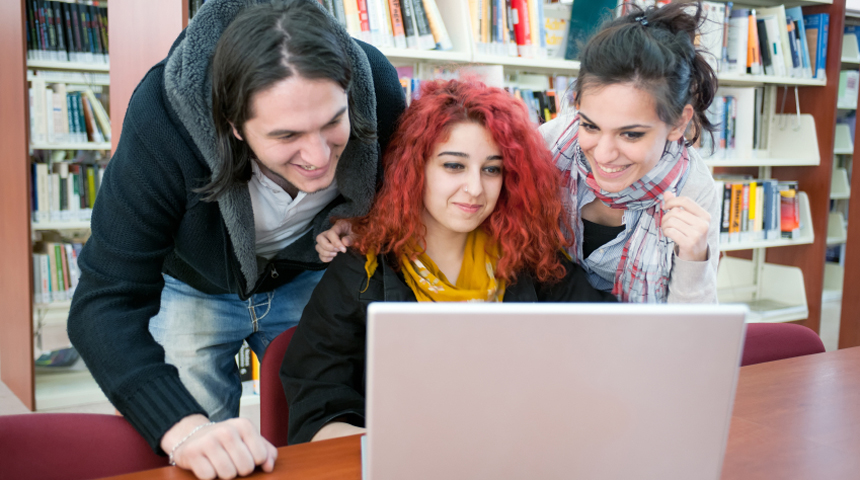 When matter enters a black hole, where does it go?
Some students may try to answer this question by surfing the Web or reading a book. But now, with the power of Twitter, teens can ask a scientist directly.
For an hour on the second Thursday of every month, students, teachers and science enthusiasts can tweet questions, and scientists will be on hand to answer. At 8 p.m. central time, they just go to the Twitter website and search for the hashtag "#scistuchat." It stands for science student chat. No question or answer can exceed 140 characters in length. Each must include the all-important #scistuchat hashtag.  Time permitting, the curious will all get their answers.
For each session, a different team of experts is on call to deal with that day's topic. One month, the scientists may be ready to answer questions about black holes. Another month it may be sharks or genetic engineering. But each Twitter get-together allows students (or the students-at-heart) to interact with research experts, tweet-to-tweet.
Adam Taylor manages these sessions. A high school Earth science and ecology teacher at Overton High School in Nashville, Tenn., Taylor joined Twitter three years ago. He was pleasantly surprised at how many scientists also use the social media service.
Taylor wants his students to meet scientists. But just bringing the occasional scientist into the classroom didn't satisfy him. "That's just one scientist in one class for that year," he explains. When he discovered how many researchers were hanging out on Twitter, Taylor realized "this was a way to get students in contact with tons of scientists."
Taylor contacts tweeting scientists in advance, asking if they would make themselves available for the hour. To find the month's theme, he consults the news. "I want to make my students more aware of the science going on around them," he says. Taylor uses sites like Science News to find topics that might interest the students. He then creates a list of candidate topics and sends them out to participating teachers. Their students can weigh in on what interests them most.
Once students take part, Taylor asks them to help moderate future tweet-fests. Taylor selects one of these helpers from his school in Nashville and one from another school. The two students who help moderate each month also must develop a list of six to eight starter questions to get a discussion going.
Since the program started two years ago, students have tweeted in from across the United States. Some even join in from other countries. 
On chat night, Taylor begins with instructions on how to ask and answer questions so that everyone can see them. He also offers a brief video with participation instructions. Then the moderators ask their questions and the scientists start tweeting their answers, each segment running no more than 140 characters. At least half of each session is reserved for questions from any Twitter user who is following the hashtag. Taylor says that going off topic is never a problem "as long as students are talking science with scientists."
Some students get their fill of science at school.  But others love the opportunity to chat with scientists. Tricia Shelton is a biology teacher at Boone Country High School in Florence, Ky.  She says her students are "lifted and excited about conversations they have with scientists." It's especially exciting when scientists retweet comments from the students. Scientists have been generous with their time, even outside the tweet-fests, Shelton says. Some continue to talk to students, offering advice about career paths. One of her students has even received funding for a research project.
Scientists have been very enthusiastic about the chats, and Taylor says that many come back month after month, no matter what the topic. An average #scistuchat will feature up to 35 scientists answering questions. And each month, more and more students join in. The chats have become so popular that Taylor says he is trying to organize another time, so that people from distant time zones might participate more easily.
The next chat is scheduled for April 10, 2014, at 8 p.m., when the topic will be green chemistry. 
Power Words
black hole  A region of space having a gravitational field so intense that no matter nor radiation (including light) can escape.
chemistry  The field of science that deals with the composition, structure and properties of substances and how they interact with one another. Chemists use this knowledge to study unfamiliar substances, to reproduce large quantities of useful substances, or to design and create new and useful substances.
ecology  A branch of biology that deals with the relations of organisms to one another and to their physical surroundings. A scientist who works in this field is called an ecologist.
tweet    Message consisting of 140 or fewer characters that people can post from an online Twitter account.
Twitter  An online social network that allows users to post messages containing no more than 140 characters.
hashtag  A word or phrase with no spaces, prefaced by the "#" sign. Including a hashtag in a message, such as a tweet, provides an identity tag that allows other people to search for and find related messages. This allows readers to find and follow a specific topic or group.