Teens win big prizes for research on potato killer, vaping and a rare disease
Awards handed out at the 2018 Regeneron Science Talent Search total more than $2 million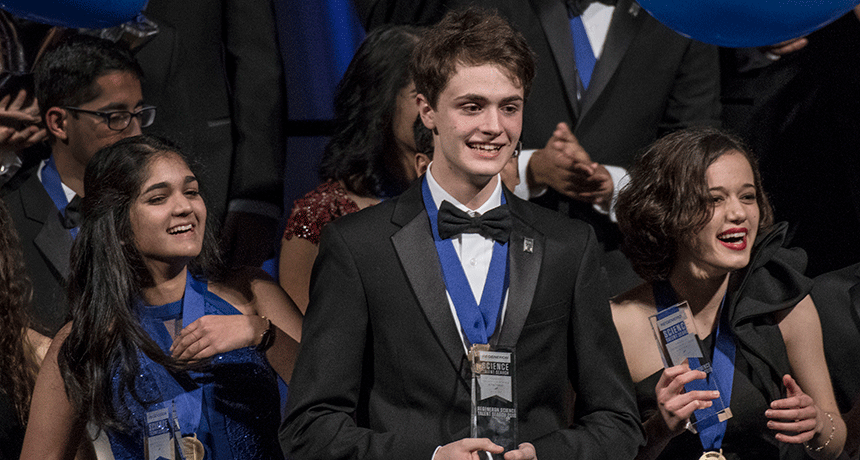 WASHINGTON, D.C. — Some teens might say they're going to tackle big problems "when they grow up." But the three top winners of the 2018 Regeneron Science Talent Search didn't see any need to wait. One wanted to prevent the spread of a potato-slaying fungus. Another studied the potential harms of vaping. And a third found new ways to predict how a rare disease might affect the women who suffer from it. 
First-place winner Benjamin Firester, 18, took home a $250,000 prize. Natalia Orlovsky, 18, picked up $175,000 for second place, and Isani Singh, 18, received the third-place prize of $150,000.
"[The students] will not only make the world a better place by applying their creativity and dedication to solve the many intractable problems we face today, the finalists will go on to conduct basic and applied research at universities and companies throughout our nation," says Maya Ajmera. "And because of the finalists…I feel so hopeful." Ajmera is president and chief executive officer of Society for Science & the Public, which created the Science Talent Search in 1942 and still runs the competition. (The nonprofit society also publishes Science News and Science News for Students.)
The Science Talent Search is sponsored by Regeneron. It's a company that develops medicine for diseases such as cancer and asthma. Each year, the Science Talent Search brings 40 high school seniors from around the country here, to Washington, D.C. They show off their science projects to the public, spend hours before a panel of judges and compete for more than $2 million in prizes.
Big projects, big results
Benjamin Firester is a senior at Hunter College High School in New York City, N.Y. While looking for a research project, he recalls, "I wanted to do a project where I could apply math … in a way that would directly have an effect on people." Benjamin focused on potato blight. This fungus, Phytophthora infestans, infects potatoes and tomatoes. It is most famous for causing the Irish Potato Famine. The loss of potato crops in the 1840s caused a million people in Ireland to starve to death. Today, that fungus still causes plenty of misery.
Benjamin used his math skills to create a computer model of where spores of this fungus might spread. Based on winds and the current location of the fungus, Benjamin was able to predict which nearby farms were at risk. With early warning, he says, "You can snuff out the disease and prevent it from spreading." He hopes such data will also help farmers know where to use chemicals that kill the fungus so will need to apply less of these harmful chemicals.
Natalia Orlovsky is a senior at Garnet Valley High School in Glen Mills, Penn. She was shocked to learn that electronic cigarettes were being marketed to kids and teens. E-cigs are promoted as being safer than smoking tobacco. She wondered, though, whether they were actually safe.
To find out, she tested the effects of e-cig liquids on cells. She worked on bacteria and human cells in Petri dishes. She also tested nicotine — an addictive chemical in cigarettes and some e-cigarettes. The teen found that the e-cig liquid itself caused cells to produce chemicals associated with stress. That was true even when there was no nicotine present. While this research was only done in cells, not people, she notes, "I think the fact that it could apply to people is reason to do more research." Vaping may indeed be safer than cigarettes, but that doesn't mean its harmless. "I think more information could help people make informed decisions," she says,
Isani Singh looked for a project that would blend her love of math with her love of biology. The senior at Cherry Creek High School in Greenwood Village, Colo., studied Turner Syndrome. This is a rare disease in which a woman is missing part or all of her X chromosome. Chromosomes are thread-like pieces of coiled DNA that contain a cell's instructions. Females usually have two X chromosomes, but in Turner syndrome, all or some of one of these is missing.
Isani developed a test to hunt down X chromosomes in human embryos to find out if any were missing. She also pinpointed specific genes — which instruct cells on what to do — that were less active in women with Turner Syndrome. She hopes that her work will help treat some of the symptoms that women with this condition suffer. Isani feels a deep emotional connection to this work after meeting women with the disease at a conference. "It's harder to give up" on the research, she says, "when you know who [the patients] are."
Not your average science fair
Winning the Regeneron Science Talent Search is about more than having the greatest science project. "It's not just the best research," says Alison Hewlett Stifel. She's the competition's director. The judges, she says, "are looking for scientific promise, for leadership in the scientific community long-term."
The application itself is its own test. "It's a really long application," says Natalia. "I think it was longer than the college applications I did!"
First, the teens have to summarize their research in a paper that can be up to 20 pages long. Then there are essays asking about a student's goals and which world problems they would like to solve. The application also asks about the teens' outside interests. Do they play an instrument? Are they volunteering somewhere? Finally, there are the usual application items, such as grades and letters of recommendation.
The completed applications (1,800 this year) go to a group of 100 scientists in various areas of science, technology, engineering and math (STEM). They narrow the field of candidates to the top 300. Society for Science & the Public then invites the top 40 of these to Washington.
Each of these finalists goes through a grueling process. They face a panel of 15 judges, experts across a range of STEM fields. In one set of interviews, the students get tested on general scientific concepts. They are asked to think through complex problems, using the science they already know and their own creativity. "If it wasn't for the pressure, it'd be enjoyable," says Isani. "The questions are fascinating things people should be thinking about, like 'why is the sky blue?' Things you should think about, but usually don't."
The questions require knowledge about scientific concepts, notes Sudarshan Chawathe, but "it's not something you can study for on weekends." Chawathe chaired the judging panel for this year's competition. He studies computer science at the University of Maine in Orono. Preparation for this competition, he says, is about having a broad, long-term interest in science. Being curious about the world and thinking deeply about problems also are necessary.
The general questions were followed by more judging as the teens described their research projects. These are projects the teens have been working on — and thinking about — for months or years. Not surprisingly, "I felt more comfortable with the project interviews," says Natalia, "though the first stage [of judging] was a lot of fun."
Science is a team sport
Whether the teens collect data in a few weeks or a few years, none of them do it alone. Some work with a science teacher or research class. But Benjamin, Isani and Natalia needed access to bigger labs.
Benjamin's family is from Israel. When he looked for a research project, he started by sending his resume to several Israeli science labs. "I got one response," he says. That was from Lior Blank who studies plant diseases. Blank works at the Agricultural Research Organization's Volcani Center in Bet Dagan. Benjamin spent two summers working in Blank's lab. He used the school years in between to analyze his data and write up his findings.
Natalia and Isani also searched for scientists to work with. In their cases, though, they attended university summer programs. Those summer experiences provided the data they used in their projects.
Natalia attended the Teen Research and Education in Environmental Sciences program at the University of Pennsylvania in Philadelphia. There, she was paired with Jeffrey Field. He's a pharmacologist — someone who studies how drugs interact with the body.
Isani knew she wanted to work on Turner Syndrome. So she applied to the Research Science Institute at the Massachusetts Institute of Technology in Cambridge. At that time, she asked to work with David Page, an MIT scientist who studies Turner Syndrome.
Many Regeneron STS finalists have scientists in their families and support from science teachers who have helped students through the application process before. "You have to have someone who encourages you," Hewlett Stifel says. "For a lot of people, it's a teacher; for a lot of these finalists, it's a parent."
In Benjamin's case, it was his sister. Kalia Firester was a 2015 STS finalist. "She's my biggest role model and biggest supporter," Benjamin says. "Without her, I couldn't have done it."
Teens who apply to the Regeneron STS tend to have more advantages than the average student. Not everyone has access to impressive labs or can get into competitive summer programs. "We need to do a better job of recruiting applicants from more diverse background," Hewlett Stifel notes. So Society for Science & the Public has started outreach programs to get the word out about this competition and to connect teachers with scientists who might mentor their students. "We want these programs to be long-term successful," says Hewlett Stifel.
Chawathe hopes that stories of the competition's winners will inspire other teens to take on research. "The general public doesn't pay a lot of attention to science," he says. But when teens doing top research win big prizes, "they make the news," he notes. And, at least a short while, their wins garner some much-needed positive attention for science.
Follow Eureka! Lab on Twitter