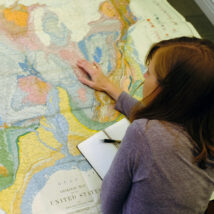 Betsy Mason is a freelance science journalist who lives in California and covers everything from earthquakes to brains. She especially likes writing stories about maps or animals. She is the co-author of a book of stories about maps and cartography called All Over the Map: A Cartographic Odyssey. Some of her favorite animals to write about are ones that are often ignored, disliked or underestimated, such as raccoons and spiders.  
Betsy previously worked as a science reporter for the Contra Costa Times newspaper and a science editor for WIRED magazine. She was a 2015–2016 Knight Science Journalism fellow at the Massachusetts Institute of Technology (MIT). Betsy has a master's degree in geology from Stanford University and graduated from the University of California, Santa Cruz Science Communication Program. Support Science Journalism
Science News Explores is a nonprofit. Support us by donating now.
Donate
All Stories by Betsy Mason
Animals

Nearly half of news stories about people-spider encounters contain errors, according to a new study. And those falsehoods tend to have a negative spin.

Animals

Scientists are teasing out the many ways the spiders' vision, listening and taste senses differ from ours