Women in STEM reach for the stars
These women pursued science to study space and everything in it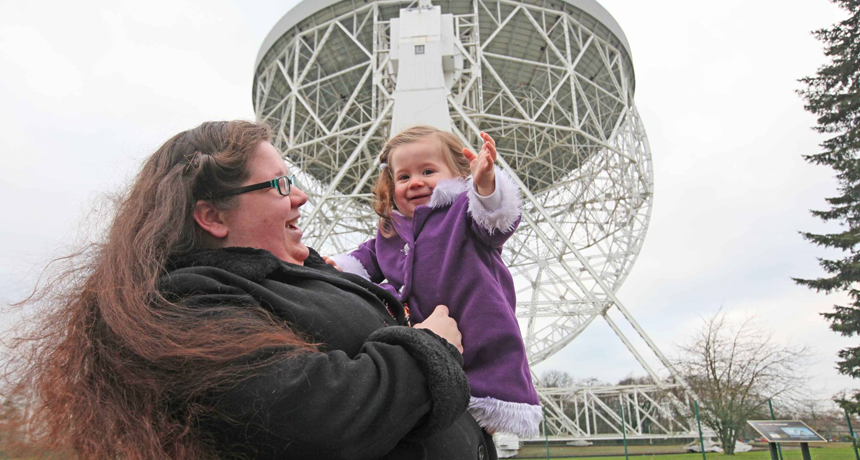 A few weeks ago, we at Science News for Students asked for women in science, technology, engineering and math to send us pictures of themselves. We wanted to show women in all walks of STEM doing what they do best. We had hoped for some 10 or 20 submissions — enough for our feature and a few blog posts.
And then you all blew us away.
As of Monday, September 12, Science News for Students received more than 150 submissions from women in STEM. Many of these amazing scientists, engineers, coders and more come from 28 U.S. states and the District of Columbia. Others come from 17 other countries. Together, these women live and work on all seven continents — yes, that includes Antarctica. They span all ages, races and fields of study. And we are very proud to share their pictures, videos and stories this week.  
To kick us off, here are 11 women who are reaching for the stars through careers in astronomy and astrophysics.
Veronica Allen
Though she comes from the United States, Allen is getting her PhD in astronomy at the Kapteyn Astronomical Institute in the Netherlands. She uses the Atacama Large Millimeter/submillimeter Array (or ALMA) — a huge telescope located in Chile. With it, she's studying how stars form in the Milky Way.
"I am the mother of one (very soon two) children, and I love ice skating, tea gardens and training with my dog in agility," she says. "A tea garden is a specialty tea cafe with a nice garden attached. I go to a lovely one near where I live called 'De Theefabriek.'"
Debra Elmegreen
"I am an astronomer who studies the evolution of galaxies," Elmegreen says. She studies these massive collections of stars mostly by using observations from the Hubble Space Telescope. Elmegreen also teaches astronomy at Vassar College in New York City.
Elmegreen takes an active role in scientific societies — groups of scientists that share their findings with each other at meetings and who promote their field of research to others. She has been the president of the American Astronomical Society. Right now, she is vice president of the International Astronomical Union. She also is a member of the American Association for the Advancement of Science. When she's not studying the celestial stars, Elmegreen is a big fan of baseball stars — the New York Yankees.
Nicole Gugliucci
"I've worked with some of the biggest radio telescopes in the world to image black holes and gas clouds," says Gugliucci. She's an astronomer at Saint Anselm College in Manchester, N.H. "I've also helped build some tiny and amazing radio telescopes to observe the early universe or to demonstrate radio astronomy to students." And she works to share her love of science through teaching and outreach programs.
In her free time, Gugliucci is into a workout called CrossFit. "I can now deadlift more than my weight," she says. "This helps immensely in getting the observatory ready for public observing or student labs." 
Rosie Johnson
Why study auroras on Earth when you could study them on Jupiter? That's what Rosie Johnson does. "I've had the amazing opportunity to go to Hawaii and use the NASA infrared telescope facility to observe Jupiter's northern lights," she says. (NASA is the National Aeronautics and Space Administration.) "We're interested in finding out how different the northern lights are on Jupiter from the northern lights of the Earth" — and the role our sun plays in those atmospheric displays.
When she's not working, Johnson loves to go kayaking. She's paddled on the Upper Nile in Uganda and off 9-meter (30-foot) waterfalls in Wales.
Lucia Marchetti
Marchetti started studying the stars in Italy, but is now working as an astronomer at the Open University in Milton Keynes, England. "My research," she explains, "is focused on the study of galaxy formation and evolution — or, in other words, on how galaxies change their physical properties (color, luminosity and so on) in space and with time." Her job lets her see the world as she uses various telescopes around the globe. She wrote to us from Cape Town, South Africa, where she was working on the South African Large Telescope (SALT).
"When I am not traveling or investigating the universe, I love to engage in some good science communication activities and to hang around with friends," she says. "It's always a pleasure when I find the time to cook a proper home-made Italian dinner for old and new friends!"
Christina Richey
Richey is a planetary scientist who works for NASA in Washington, D.C. And she's been very busy lately. She's one of the scientists on the OSIRIS-REx Mission. NASA launched this spacecraft on September 8. It's off to grab a sample from an asteroid named Bennu. OSIRIS-REx is not scheduled to return to Earth until 2023. 
Richey manages several other programs. And in her spare time, she notes, "I work as advocate for inclusion and a safe, welcoming environment for all within my field."
Johanna Teske
"I'm an astronomer who studies exoplanets — planets around stars other than the sun — and their host stars," explains Teske. Her team's goal is to understand the diversity of planets in our galaxy, the Milky Way. She works at the Carnegie Institution for Science in Washington, D.C.
In her free time, Teske run marathons. Her friends even make astronomy-themed signs to cheer her on!
Sheona Urquhart
"I am an astrophysicist and I study galaxy evolution," explains Urquhart. She's looking for any influence the local environment might have on that galaxy. She works at the University of Hull in England. As a scientific outreach officer, she also work with local schools and the community. Her goal is "to promote the study of physics and enthuse young people!"
In her free time, Urquhart gets away from the light waves emitted by stars to study ocean waves here on Earth. In short: She loves surfing.
Licia Verde
"In primary school I was not good in math," says Verde. "[I thought] 'Why should one plus one, in abstract, be two? Who says so? Who cares?' [But] then I realized that nature is written in the language of mathematics." And that changed her outlook on things, especially math.
Today, she studies astrophysics at the Institute of Cosmos Sciences at the University of Barcelona in Spain. Verde also is the mother of twin girls.
Jennifer White
White has always loved smashing stereotypes. She operates simulators for satellites and works at NASA Goddard Space Flight Center and the NOAA Satellite Operations Facility in Maryland.
Outside of the office she takes on a hosts of athletic pursuits. "I have over 600 skydives and got my Advanced SCUBA certification at the Great Barrier Reef," she notes. "I also rock climb, mountain bike, run, [stand-up on paddleboard], and have a motorcycle."
Angela Zalucha
Zalucha is most interested in weather — weather that is far, far from home. "I write computer programs that simulate atmospheres that are truly out of this world," she says. "Just like Earth has weather and climate, so do a lot of other places like Pluto, Mars and Venus, just to name a few." She predicts the temperature, pressure and motion of those distant atmospheres. This atmospheric scientist works at the SETI Institute, which searches for life outside our solar system.
To chill out, Zalucha has a goal of downhill skiing every single month of the year. "So far my record has lasted for 35 months and counting!"
This is only the first in a series, as we highlight more than 100 women in STEM. Keep an eye out for our next installment!
Follow Eureka! Lab on Twitter