Rocket nozzle research propels teen to big win
Competition brought 30 middle-school researchers to the nation's capital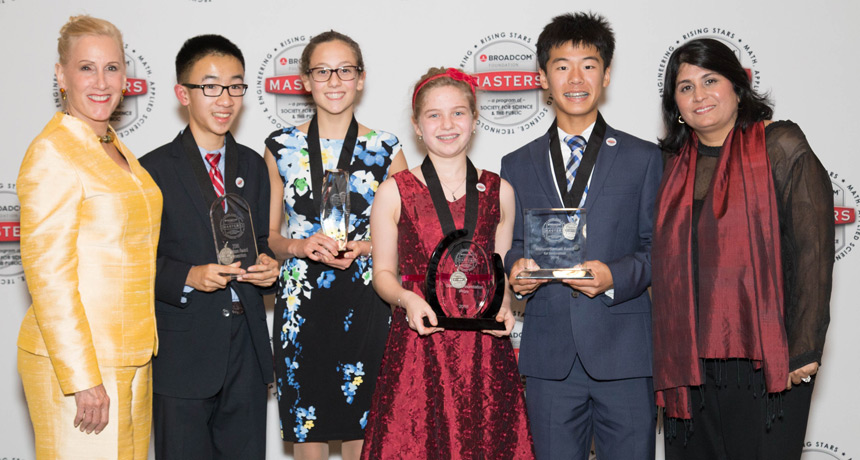 WASHINGTON, D.C. — When it comes to rockets, the more thrust the better. This week, Eleanor Sigrest rocketed through a series of science, engineering and math challenges in the nation's capital. On November 1, she claimed the top prize, an educational award worth $25,000.
The 13-year old from Woodbridge, Va., learned of the honor at an awards gala the night after Halloween. And for Eleanor, it was no trick, all treat. "When I first learned that I'd won, I didn't quite believe it," she says. "Everyone else was just as deserving," she adds modestly.
Eleanor was one of 30 finalists from 15 states in the sixth annual Broadcom MASTERS competition. (MASTERS stands for Math, Applied Science, Technology and Engineering for Rising Stars.) The program was created by Society for Science & the Public (SSP), which publishes Science News for Students. The Samueli Foundation provided Eleanor's winnings. This non-profit organization was created by Broadcom founder Henry Samueli.
Overall, a dozen finalists took home major cash awards or funding to attend the science camp of their choice.
Students qualified to take part in the competition on the basis of a middle-school science fair project. Those projects fall within the fields of science, technology, engineering or mathematics (STEM). Finalists had to be in the sixth, seventh or eighth grades when they competed at the local level. Broadcom MASTERS is much more than a science fair, however. Indeed, the  contestants' qualifying projects accounted for only about one-fourth of their total scores.
In her qualifying project, Eleanor analyzed the best shape for a rocket nozzle. Based on previous research, designers have long presumed the best angle between the nozzle's axis and its surface is 15 degrees, she notes. For her study, she 3-D-printed tiny plastic models of rocket nozzles. Some had wide angles. Others nozzles were narrower, with the angle between the nozzle's surface and its central axis as low as 12 degrees.
The teen forced compressed air through each nozzle and compared the findings. And the results surprised her: "I found the best angle for a rocket nozzle is about 20 degrees," she says. The findings, she suspects, might argue that engineers should re-evaluate their designs in some cases.
"I would like to congratulate Eleanor, our top 2016 Broadcom MASTERS winner," says Maya Ajmera. She adds that "I'm excited to see where her interest in STEM takes her."  Ajmera is president of SSP, which publishes Science News for Students.  
The largest portion of Eleanor's winning score came from her performance in a series of science challenges. Even before arriving in Washington, she and the other finalists had been grouped into five-member teams. For two days of the competition, each team designed everything from electronic circuits to games that teach users about nutrition. One challenge asked each team to design and build a robotic arm. It was to be based on a crab's arm and claw.
Altogether, the 30 finalists competed for more than $100,000 in awards. This year's group of finalists included an even split of 15 girls and 15 boys. They had been selected from the more than 2,300 applicants that had entered this year's competition. That group came from 49 states and 4 U.S. territories. The field was narrowed to 300 semifinalists and then the 30 finalists.
"Through this competition, we are cultivating a group of young scientists who will someday address many of our global challenges," says Ajmera.
Other award winners
Aria Eppinger, 15, won the Robert Wood Johnson Foundation Award for Health Advancement. It is worth $20,000. For her project, the teen from Pittsburgh, Pa., studied the effect of a commonly-used weed killer on two types of bacteria that live in the human gut.
Kaien Yang, 14, won the Marconi/Samueli Award for Innovation. It is valued at $10,000. The teen from Chantilly, Va., developed a way to analyze brain scans to predict the risk for severe depression with an accuracy of 93 percent.
Nathan Deng, 14, won the Lemelson Award for Invention. It is worth $7,500. This teen from San Marino, Calif., studied how to make a common type of detergent clean up oil spills more effectively. 
Additional finalists took home first-place awards, worth $3,500, or second-place prizes valued at $2,500, in each of the STEM fields.
Science:
First place: Ananya Ganesh, 14, from Sandy Springs, Ga. She studied the electrical signals generated by jaw muscles when people grind their teeth.
Second place: Cynthia Chen, 14, from Cupertino, Calif. She researched ways to reduce the amount of water needed by sprouting seeds.
Technology:
First place: Adishree Ghatare, 14, from San Jose, Calif. She developed an app to help people learn vocabulary words.
Second place: Shreya Ramachandran, 13, from Fremont, Calif. She studied the effects on plants of water previously used to wash clothes with a natural detergent generated by so-called "soap nuts."
Engineering:
First place: Brendan Crotty, 14, from Muskogee, Okla. He studied the insulating properties of various types of materials that could be used to insulate blacksmith forges, kilns or other ovens.
Second place: Emhyr Subramanian, 14, from Aurora, Colo. He studied super-absorbent polymers as a way to clean up oil spills and other pollutants.
Mathematics:
First Place: Anushka Naiknaware, 13, from Portland, Ore. Using tiny particles of carbon and a material found in shrimp shells, she developed a material that could be used to better treat wounds.
Second Place: Olivia Lazorik, 15, from Fort Pierce, Fla. She studied the effects of ocean acidification on the growth and development of a species of tiny shrimp.
Two additional finalists earned Rising Star awards. They are James Fagan, 10, of Riverside, Calif., and Ashini Modi, 12, of Shreveport, La. Each will take part in the Broadcom MASTERS International event in Los Angeles, Calif., next May. As part of that trip, they will attend the Intel International Science and Engineering Fair. Also an SSP program, Intel ISEF is the world's largest international science fair competition.
Paula Golden is president of the Broadcom Foundation, based in Newport Beach, Calif. This organization sponsored the MASTERS competition and provided funding for its awards. "Celebrating the success of our 2016 Broadcom MASTERS winners gives us a chance to acknowledge the hard work and dedication of young people everywhere," said Golden. She lauded the young researchers, who, she notes, "are pursuing their dreams to become scientists, engineers and innovators."