U.S. records reveal the last 30 years were the hottest on record
New 'climate normals' show that average temperatures increased notably just since 1990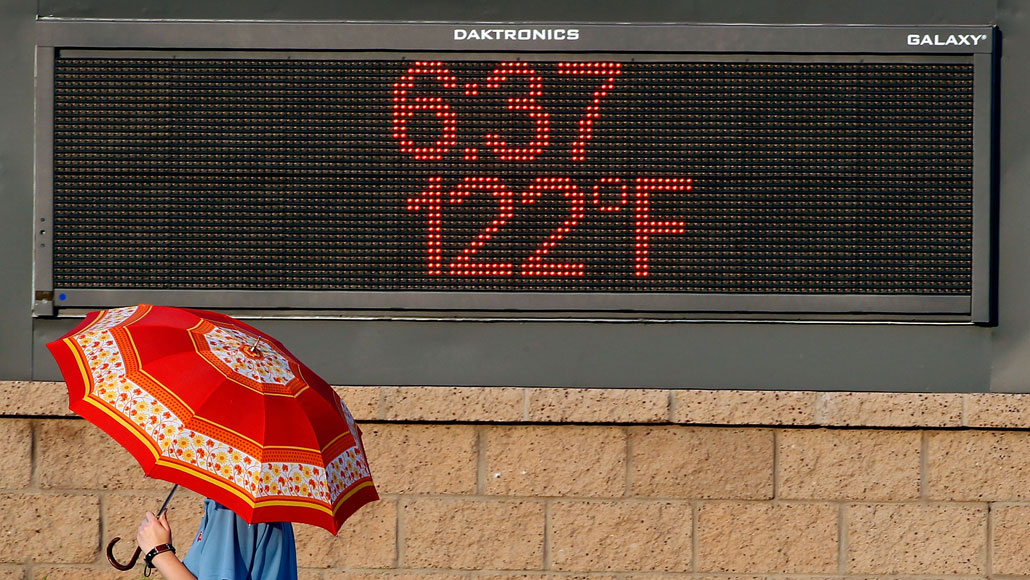 Heads up, weather geeks. U.S. weather has just hit a new normal. The government has changed its reference values for temperature and precipitation. And these show that the last three decades have been the warmest on record.
People in the American West and the Pacific Northwest may not be surprised. Many cities there hit repeated record temperatures in June. They occurred during two back-to-back heat waves.
In mid-June, cities from Omaha, Neb., to Sacramento, Calif., set records of at least 105º Fahrenheit (40.6º Celsius). Phoenix, Ariz., and Death Valley, Calif., hit monster extremes on June 17 of 118 ºF and 128 ºF (47.8 and 53.3 ºC, respectively).
Then, in late June, another heat wave hit the Pacific Northwest. Seattle set a record high temperature of 105 ºF (40.6 ºC). Portland, Ore., reached a record 116 ºF (46.7 ºC). Even in Canada's British Columbia, temperatures in the village of Lytton soared to 121 ºF (49.6 ºC). That set a new record for the entire country.
NPR.org cited the director of the Arizona Burn Center in Phoenix to put June's extreme heat in context: "If you look at hot pavement or asphalt at two o'clock in the afternoon in direct sunlight, the temperature is usually somewhere around 170 to 180 degrees Fahrenheit." (That's 76.7 to 82.2 ºC.)
Hot spots
NOAA's new 'climate normal' shows that average temperatures across the U.S. mainland increased nearly everywhere compared to the preceding three decades. 
U.S. mean temperature change: 1991–2020 compared with 1981–2010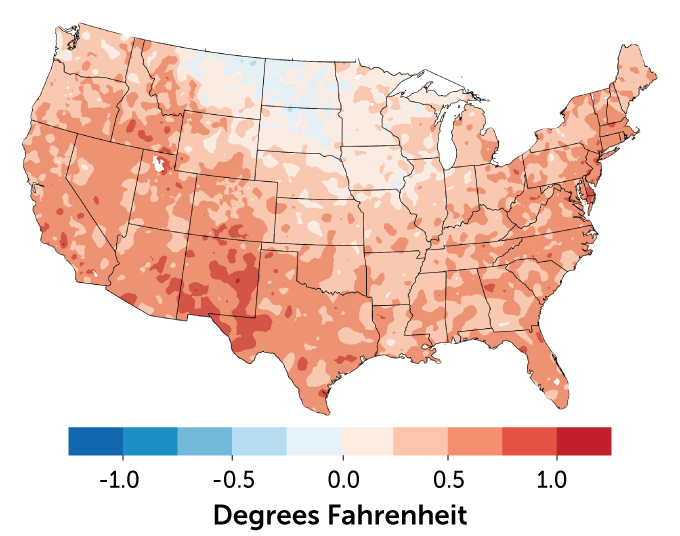 The new "normals"
The National Oceanic and Atmospheric Administration, or NOAA, reports "climate normals." These offer a standard way to compare today's weather against 30-year averages. But figuring out a new normal isn't simple. The agency compiles 30 years of observations from about 8,700 U.S. weather stations. Later, it ensures the quality of those data. Only data that past that test are used to calculate multiple measures of climate.
Over the past 30 years, the average temperature across the U.S. mainland was 11.8 ºC (53.3 ºF). The previous period's average was 11.6 °C. But bump in temps varied across the United States. That likely was due in part to geography. Seasonal waverings also played a role. Some of the largest increases were in the South and Southwest. Those same regions showed a dramatic drop in rainfall. Educators and Parents, Sign Up for The Cheat Sheet
Weekly updates to help you use Science News Explores in the learning environment
Thank you for signing up!
There was a problem signing you up.
The World Meteorological Organization requires the United States and its other member nations to update their climate normals once each decade. These allow people to view data on daily weather events against what has happened in recent history. Farmers use these data to track droughts or risk of freezes.
Keeping track of shifting averages also helps us understand the skyrocketing pace of climate change. NOAA compared the current and previous 30-year normals to the average highs in daily heat between 1901 and 2000. No part of the country is cooler now than that 20th century average. And temps in large swaths are higher by 1 to 2 degrees Fahrenheit (0.6 to 1.1 degrees Celsius).
Rising temps
The average temperatures for consecutive 30-year periods in the U.S. mainland show the country getting hotter since 1901. Here, each 30-year period is compared with the average temperature for the entire 20th century.
U.S. 30-year temperature averages compared with 20th-century average