GPS jewelry helps refugee moms and kids stay healthy
New system helps mothers track when kids need vaccinations and lets health workers locate people in need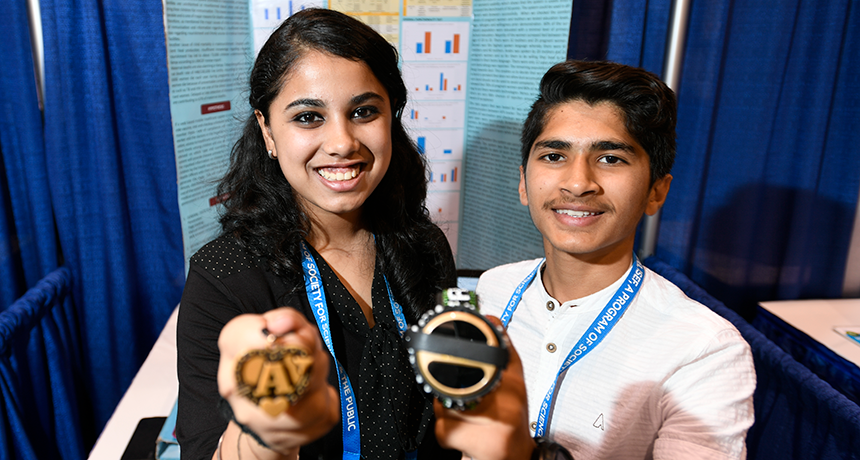 PHOENIX, Ariz. — New moms have a lot on their minds. That stress is even worse if those moms are raising their kids in a refugee camp like Dadaab Refugee Complex in the East African nation of Kenya. Now, two teens have designed a website and locator system to help those moms remember when they and their kids need to get to the doctor. And if the parents can't get to the doctor, the system lets a health worker instead find them.
Kunjal Bharatkumar, 15, and Supraja Sayee Srinivasan, 15, are 10th graders at the Shree Cutchi Leva Patal Samaj School in Nairobi, Kenya. The two wanted to help mothers and children in Kenya get the health care they needed.
Supraja notes that between 2013 and 2018, 68,882 children in Kenya died of diseases that could have been prevented with vaccines — drugs that help the body become immune to a disease. Unfortunately, mothers in refugee camps may not know what vaccines their children need, and which ones they have already had.
Another big healthcare issue: "About 73,000 children in Kenya are malnourished," Supraja says. In many cases, parents don't get the proper information on what their children need. "We felt that technology does have the power to save these lives," she says.
To tackle that, Kujal and Supraja created a website called "Mother and Child Health Care." This site allows doctors and parents to track what vaccines kids need. It can also take a child's height and weight and calculate whether they are seriously underweight. If they are, it recommends a diet to help the child achieve a healthy weight.
Key to the system: GPS
The teens paired their website with small GPS devices — trackers that monitor their position. A mother gets a GPS bracelet and her baby a GPS necklace. This jewelry isn't tracking people all the time. It turns on when it's time to alert the mother that her child is due for its next vaccine. Then, mom can take her child to get the shots.
Many times, however, a mother and child can't make it to the doctor. If they miss their vaccine appointment, the GPS system activates. It now sends a signal to health-care workers in their area to visit — with vaccines in tow. When they sign off that the child has received a vaccine, the system deletes the GPS data.
Health-care workers also can use the site to create a map of diseases that are active in various counties. This could help them figure out if a deadly disease — such as cholera — is spreading. When it is, they can bring help to where it is needed.
But would doctors and parents use such a service? To find out, the teens' teacher, Laban Chweya, reached out to a healthcare worker at the Dadaab Refugee Complex. It's one of the world's largest refugee camps. More than 235,000 people there have fled poor and war-torn countries such as Somalia, South Sudan and Ethiopia.
At the Dadaab complex, Kujal and Supraja handed out GPS bracelets to 30 pregnant women and put GPS necklaces on 30 children that were younger than five. They taught all these mothers and 15 health care workers how to use their website. Over the next six months, the teens collected data on how easy the system was for the mothers and doctors to use. They also kept track of how many kids got their vaccines.
Many mothers did not get their children vaccinated, despite getting reminders. They just couldn't get to a site that offered the medicine. But when their GPS systems were turned on, health-care workers sought them out. The result: More of these children were eventually vaccinated. The mothers also said that they appreciated the GPS trackers and the diet advice that they got for their children. More than 70 percent were willing to wear them and have their children wear them.
Kujal and Supraja showed off their novel system here at the Intel International Science and Engineering Fair. This yearly competition brings together more than 1,800 high school students from 80 countries to share their research projects. This year, ISEF is sponsored by Intel. The fair was created and is still run by Society for Science & the Public. (The Society also publishes Science News for Students.)
The teens used GPS trackers that cost only about $3 each. Eventually, they'd like to see the whole system run for free. The best way to make that happen, Kujal says, is if governments adopt the system for use within their borders. "We want the system to be used by all health workers so it can run efficiently," he explains.
He and Supraja eventually hope their system could be used within every developing nation across the globe. They also would like their GPS to run on solar power so that mothers without access to electricity would still be able to use them.
Finally, these teens would like to see their system paired with better education. "Mothers need to know how this can help and what it can do," Supraja explains. "Children are the future. And if they are dying, what is the future?"