Need money to invent? Get your own grant!
The Lemelson-MIT InvenTeam offers grants to help high school engineers reach the next level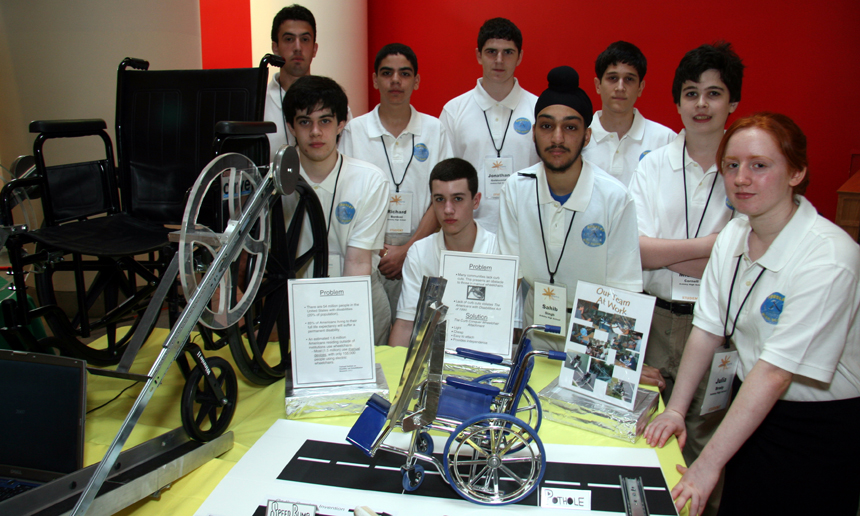 Are you a student who is inspired to invent? Or a high school teacher trying to give kids experience in problem-solving? You might qualify for a Lemelson-MIT InvenTeam grant. The program offers up to $10,000 for teams of high school inventors with clever ideas for tackling real-world challenges.
Leigh Estabrooks is the program's invention education officer. She says the program was started to "inspire youth to consider invention." Allowing students to pursue their own ideas, she says, "makes invention real in their lives and makes them see that they could become the inventors of tomorrow." She considers every invention proposal successful, even those that are not funded.  This program is about "experiencing the process of invention," whether or not the invention leads to a successful new product. And coming up with ideas and working through how they would be developed — part of the grant application — is a pivotal part of the invention process.
Some funded inventions have received a lot of attention! Ardsley High School in Ardsley, N.Y., for example, developed a "curb-conqueror" for wheelchairs. Sidewalks are supposed to have sloped cutouts at street corners. This allows people in wheelchairs to cross the street easily. However, many sidewalks don't have these cuts. An Ardsley High School student wanted to make street crossing easier for his wheelchair-bound sister. His team ended up developing a portable ramp. They now have a U.S. patent for the invention! 
Students at Sturgis West Charter Public School in Hyannis, Mass., are working on a marine mammal rescue transporter. This sling helps get stranded whales and dolphins off of a beach and into vehicles. The animals then can be transported to places that can help them recover.  The nearby Woods Hole Oceanographic Institution has shown a keen interest in the project, helping the teens build a sample sling.
And of course we can't forget the students at Benjamin Banneker High School in Washington, D.C. They've been working on a lock called DeadStop. This low-cost, low-tech plastic device was designed to prevent school shooters from gaining access to classrooms. The teen inventors are going to apply for a patent. CNN already has interviewed the team about its novel design.
InvenTeam financing is available to lots of groups, including public schools, private schools, clubs like the Girl Scouts and teams of home-schooled teens. There are two stages to the application process. Teachers or adult sponsors of a group must show how interested their students are and how supportive their school or organizers will be of a group if it gets a grant.
Each year, Lemelson-MIT InvenTeam selects 30 to 35 of the applicants to move on to the second round. Each group's teacher or sponsor receives an Excite award, which covers the costs of travel to attend EurekaFest in Cambridge, Mass. At this event, they can view last year's inventions, get advice on their own proposed projects and find inspiration. After returning home, the sponsors must submit final proposals. Up to 15 high-school teams will receive a grant to then build their proposed device.
Lemelson-MIT InvenTeam will mentor teachers every step of the way. It will help encourage their projects — even those that don't end up getting funded. Many teams, in fact, will end up receiving local funding.
The goal is to turn teens on to engineering. "Kids learn so much and they are so engaged in solving these real world problems," Estabrooks says. "Having been a classroom teacher and trying to engage students in lectures or work books, I was always looking for some high quality projects. InvenTeam is one of those."
For more information about InvenTeam and to get inspired to invent, visit its website! Applications are due in February.
Power Words
engineer  A person who uses science to solve problems. As a verb, to engineer means to design a device, material or process that will solve some problem or unmet need.
patent  A legal document that gives inventors control over how their inventions — including devices, machines, materials, processes and substances — are made, used and sold for a set period of time. Currently, this is 20 years from the date you first file for the patent. The U.S. government only grants patents to inventions shown to be unique.