Teachers and Parents: Science activities for the whole family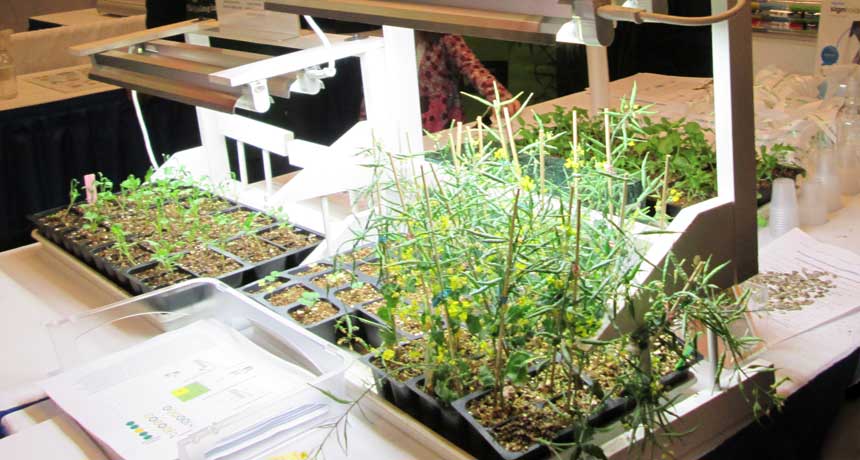 CHICAGO — It might seem that a scientific conference would attract only scientists. But the American Association for the Advancement of Science annual meeting is different. This year, some 10,250 registrants came to hear experts discuss new findings and policy issues in all areas of scientific research. But during the weekend, more than 3,000 kids also turned up. They were headed for the Family Science Days, a veritable science carnival. Thirty-one speakers and science-related groups joined together in a large exhibit hall to offer performances and demonstrations aimed at the K-12 set.
The American Society of Plant Biologists quickly pulled me in with a beautiful display of special greenery called Fast Plants. Scott Woody, a botanist at the University of Wisconsin in Madison, developed the cultivar to teach students about genetic inheritance. The flowers grow in only two months. They've been bred to display specific DNA mutations, like pale leaves or dark leaves. A single pack of seeds will produce traits in specific proportions, which correspond with the principles of genetics. Teachers can get packets of seeds for free to help their students learn about genes.
Kids mobbed the Mind Trekkers table. And no wonder! Run by undergraduates from Michigan Technological University in Houghton, this exciting exhibit showcased everything from liquid-nitrogen ice cream to electrode-connected bananas that make music. Trekker Elise Conley, a student at Michigan Tech says her group travels all over the Midwest to wow students. She emphasizes not all Trekkers are science majors. To become one of us, she says, "All you have to do is love science."
A table covered in broken CDs and DVDs was not the scene of a terrible accident. It was part of a demonstration by the Materials Research Science and Engineering Center at the University of Wisconsin, Madison. Materials scientist Benjamin Taylor helped kids safely shine laser pointers at CDs to demonstrate diffraction, or how light bends when it passes through a slit. Taylor says the goal is to help kids better understand the science at work throughout "the world around us, things we can't even see."
These were only three of the many fantastic science outreach groups at this annual AAAS event. Make sure to check out the website for a full list of all the organizations that participated. And when the AAAS meeting comes to your part of the United States (next year's stop: San Jose, Calif.), bring a carload of kids over to check out why science is really fun.