Ask the experts: How to create a top-notch science fair project
Finalists in the Broadcom MASTERS middle-school science competition share tricks of the trade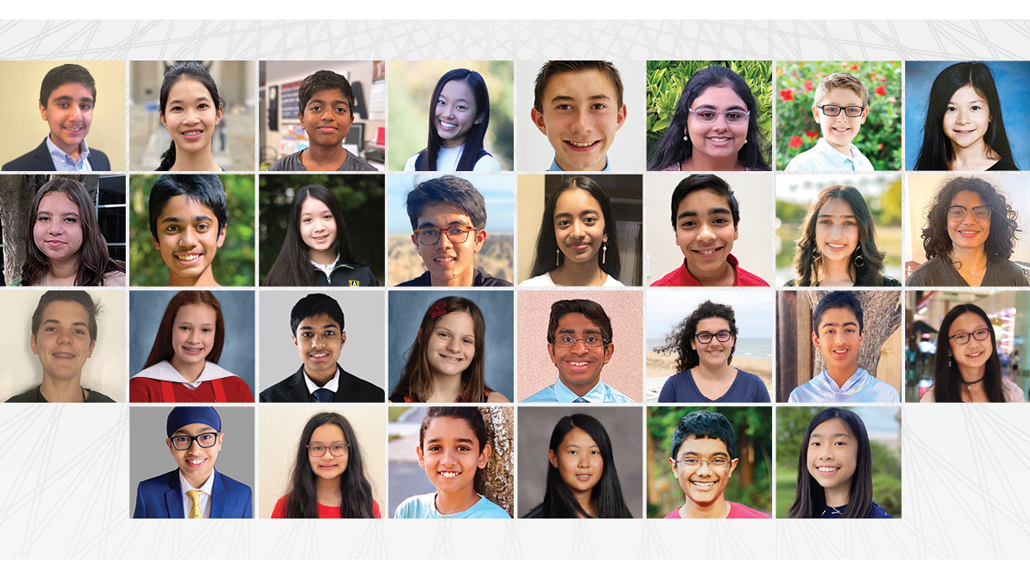 Have you ever considered doing a science fair project? Maybe you wanted to, but didn't know where to start. Or you had an idea, but weren't sure you could pull it off. Maybe you don't think science fairs are for you at all.
Science competitions can be fun and rewarding. But for many, they also can be intimidating. So Science News for Students spoke to five experts about how they created first-rate science projects — and what they got out of the experience.
All were among the 30 finalists in the 2021 Broadcom MASTERS competition for middle-school students. (The competition was created by Society for Science, which publishes Science News for Students). Their projects explored everything from wildfires to language to music. The students discuss their inspiration, obstacles they faced and what they loved about their project. Educators and Parents, Sign Up for The Cheat Sheet
Weekly updates to help you use Science News Explores in the learning environment
Thank you for signing up!
There was a problem signing you up.
Prisha Shroff
Prisha, 14, designed an artificial-intelligence system to predict where wildfires might happen. Her algorithm uses NASA satellite observations of the Earth's surface and weather data to spot environments that might catch fire. In testing, her artificial intelligence, or AI, detected fire risk areas 98 percent of the time. Prisha attends the Accelerated Middle School at Basha High School in Chandler, Ariz.
What inspired you to pursue this project?
"When me and my family were driving home from [Los Angeles], we were stopped on the road because there was this huge wildfire," Prisha says. One of her friends even had to flee their house due to the fire. "That really like inspired me that, okay, [wildfire] is like a really big issue," she says. "If it has such an impact in just California and that one city, then how much damage is it doing around the world?"
What was the most exciting part of your project?
"The most exciting thing was coding my project and going through the trial-and-error process," Prisha says. "There's so much to learn when you're using [AI]," she says. "There's so much that you can do with it, and there are so many resources out there." Online courses helped Prisha learn about AI. When it came to creating her own program, running into problems was part of the fun. "I was most excited when I was troubleshooting," Prisha says, because finding solutions was so satisfying.
What's the most important thing you learned from doing this project?
"Nothing is impossible. Never give up," Prisha says. "It took me a couple of months just to figure out, 'How am I going to even use the broad concept of AI?' There was so much information out there, and I had to figure out how I was going to use it." Staying positive even when she felt overwhelmed was crucial to her success.
Eamon Gordon
Eamon, 14, studied an aspect of speech called voice onset time. This occurs when you make the sound of a consonant (like the "t" in "tab"). To pronounce that letter, you first close or constrict your mouth. (In the case of the letter "t," your tongue blocks the front of your mouth.) That builds pressure in your vocal tract. Opening your mouth to produce the next vowel sound (like the "a" in "tab"), releases that pressure. The time between the release and the vowel sound is the voice onset time. Eamon's experiments show that the voice onset time affects how listeners hear consonants. Eamon is a student at Goleta Valley Junior High School in Goleta, Calif.
What inspired you to pursue this project?
"When I was in third grade, I thought that sounds were quite similar to one another, letters like 'd' and 't,'" Eamon says. "Unlike vowels, they sounded quite similar to me." That made Eamon curious about how people distinguish between similar sounds. When he asked his father, Eamon's dad pointed him to information on voice onset time.
What was your favorite part of this project?
Eamon enjoyed recruiting students he didn't know to participate in his study. In his experiments, Eamon played recordings of words, such as "tad" and "dad," with different voice onset times. Then he asked listeners about how they perceived the consonants in those words. "I went up to strangers and just ask them for some of their time, which was I think a good experience," Eamon says. "I got to meet new people."
What would you tell a kid who wanted to start a science project?
The most important thing is "laying out your plans," Eamon says. "There might be a few road bumps. But overall, I think if you just have a plan, it'll be great." For Eamon, the key to making a plan was finding mentors and other resources to inform his project.
Gabriela Guerra Sanchez
Gabriela, 13, is a painter and music lover. So she investigated whether music affects how people see art. Student volunteers listened to happy or sad music while looking at a picture that Gabriela had painted. Then, the volunteers reported whether the song type changed how they viewed the painting. About 57 percent of the time, the answer was yes. Gabriela goes to Tennyson Middle School in Waco, Texas.
What inspired you to pursue this project?
"I am really a fan of music," Gabriela says. "I listen to music every day. I don't leave home without my headphones." She started to notice that the type of music she was listening to influenced how she felt about visuals, like artwork or ads. Gabriela wondered, does background music affect how other people see things?
What resources helped you complete this project?
Data collection was difficult for Gabriela because she was an at-home learner. And at home, her cousin was often the only other person around. So Gabriela got a teacher to help. The teacher showed Gabriela's painting to students in a classroom and collected survey data for Gabriela to analyze. "Sometimes, I would come after school once everybody left so it could be just me and the teacher," Gabriela says. Those meetings were helpful for completing her project.
What would you tell a kid who wanted to start a science project?
"Have fun with it," Gabriela says. "Just have fun on what you're doing and find a way to help you during the process too." Gabriela says that her project, for instance, offered her a new way to talk about her emotions with her mother.
Avi Patel and Ansh Sehgal
Avi and Ansh, both age 12, built a program together to help visually impaired people ride a bicycle. A device on a sighted person's bicycle sends instructions to a visually impaired person's bike about when and how to make turns. Avi and Ansh attend Thomas Jefferson Middle School in Fair Lawn, N.J.
What inspired you to pursue this project?
"Many years ago, I visited a shelter for blind people in India," says Ansh. There, he saw a little girl approach a milkman and asked if she could ride his bike. "She was very fascinated about how he rode the bike," Ansh recalls. Avi had a similar experience while volunteering at a summer camp for blind people when he was 10. After sharing those stories with each other, Ansh and Avi decided to team up to help visually impaired people ride bicycles.
What was it like working as a team?
"It was very fun," Ansh says. "He's my friend, but I got to see how he works." Avi agrees that working on the project with Ansh added a new dimension to their friendship. "We never really knew that both of us liked STEM," he says. (STEM stands for Science, Technology, Engineering and Math.) The two talked about their bike system at school and visited each other's houses to test it. Working with a friend "helped motivate us," Avi says.
What was your favorite part of this project?
The most rewarding part was figuring out why they couldn't get their program to work, Avi says. "We got so frustrated," he recalls. "It took us an entire day to figure it out." The problem? A single line of extra code that caused the entire system to fail. "After that we had a pretty good laugh," Avi says. For Ansh, one of the best parts was getting feedback on their project from someone who was visually impaired.
What would you tell a kid who wanted to start a science project?
"I think kids should mainly seize every opportunity that they get, whether it's in STEM or outside of STEM," Ansh says. After all, you never know when you might discover a new passion.
And the winners are…
Prisha Shroff was among the top winners of this year's competition. She took home the $10,000 Lemelson Award for Invention. This honor recognizes a young inventor creating promising solutions to real-world problems.
Ansh Sehgal, Avi Patel and Eamon Gordon also won awards at the competition. (Check out the full list here.)
Akilan Sankaran claimed the top $25,000 Samueli Foundation Prize. The 14-year-old from Albuquerque, N.M., developed a computer program to calculate highly divisible numbers, called antiprimes, that are more than 1,000 digits long. This award recognizes a student who "exemplifies how research, innovation and team work come together to achieve STEM goals."
Other $10,000 winners in this year's competition included:
Camellia Sharma, 14, of Henrico, Va., 3-D printed a drone/boat that takes underwater photos to count fish.
Josephine E. Schultz, 14, of San Antonio, Texas, discovered that changes in light patterns can affect when painted lady butterflies emerge from their chrysalises.
Ryka C. Chopra, 13, of Fremont, Calif., tracked the locations of fast-food restaurants to see whether they were built near populations of obese people, which could contribute to the obesity cycle.