This chemist uses online videos to teach about the perils of microplastics
Imari Walker turned to YouTube to talk to people about science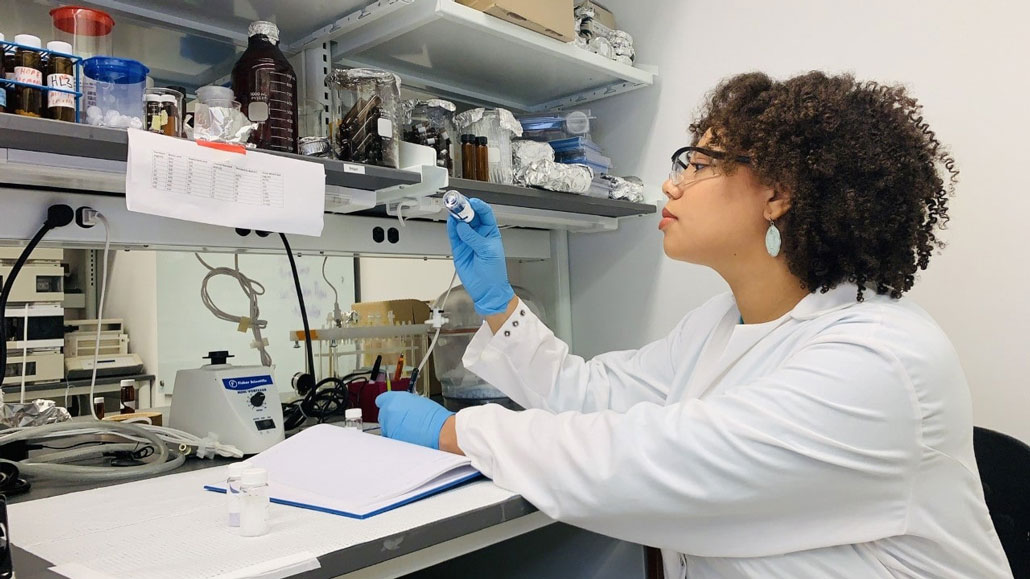 If Imari Walker (sounds like calamari, she jokes) looks familiar, that might be because you came across one of her YouTube videos. There, she talks about two main things: the risks posed by plastic pollution and how to prep for college. Walker currently works as a research chemist at the nonprofit organization RTI International in Raleigh, N.C. Her recent PhD, though, focused on polluting plastic bits and how these microplastics get into our environment. Most microplastics come from deteriorating products and waste.
Walker first got interested in the issue of plastic pollution in college. She started to think about its impacts on us and other organisms, as well as the whole environment. And she wanted a career where she could work on cleaning up the problem.

Now Walker is co-writing a book. She wants to offer high schoolers and college students a "refresher on everything plastic." The book covers topics such as the history of plastic production and alternatives to address the growing problem of plastic pollution. She says her journey as a scientist and communicator lets her advocate for her passion. In this interview, Walker shares her experiences and advice with Science News Explores. (This interview has been edited for content and readability.)
How did you get to where you are today as a science communicator?
I think it started kind of slow. The catalyst was actually the pandemic in 2020 when my PhD was just about halfway done. All the conferences and plans that I had to share my science got canceled. I needed a different way to continue to put my research out there. I thought a YouTube channel would be a really great way to do that. And I thought that plastic pollution was an issue the rest of the world should know about.
The YouTube channel was the biggest way that I got into science communication, but it kind of exploded into other realms. I went on podcasts and talked about plastic pollution and helped to do a social-media campaign for a Plastic-Free President. That group encouraged President Joe Biden to take action to reduce plastic pollution. I also spoke on panels to promote reintroduction of the Break Free from Plastic Pollution bill in Congress. It was a really great opportunity to try to continue to give voice to the science from a scientist's perspective.
How do you get your best ideas?
I always keep a running list of things. How do you catch somebody's interest? How do you keep the spark? It's really just kind of like brainstorming on a consistent basis as new science comes out and as I'm reading about things. What has the most weight? What's the most engaging way to hook an audience and make it make them smile or laugh or think a little deeper?
Because I think that's kind of the theme of the YouTube channel itself. To try and bring a little bit more lightheartedness to some of these topics that can easily get so overwhelming. Things like the fact that we have so much plastic out there and that it's so difficult to remove. And so I'm always trying to instill a little bit of hope and instill a little bit of why this is still important. And why we need to continue to think about this and dive into it and support the science. Actually do the work to remediate our world. Educators and Parents, Sign Up for The Cheat Sheet
Weekly updates to help you use Science News Explores in the learning environment
Thank you for signing up!
There was a problem signing you up.
What would you say is one of your biggest successes?
If we're talking about the YouTube channel, I think it would have been the "10 Facts You Need to Know About Microplastics" video. That one provides people with some really easy facts about what microplastics are and what they could possibly be doing to our environment. It does so in a kind of entertaining way.

And then just as an academic, I really think my work promoting the Break Free from Plastic Pollution bill was one of the things that I felt really proud about. I was honored to be able to be on the panel and advocate for that piece of legislation.
What do you like to do in your spare time?
Recently, it's been writing a book, but I'm learning how to play the piano. I love reading. That's always something that kind of takes me away and makes me think about the wide world around us. I think playing with my cat is always great. She was also another one of those pandemic choices that helped me rethink the world and provide some new level of stress relief and fun.
What piece of advice do you wish you had been given when you were younger?
Take your time to enjoy yourself as much as possible. And working on work-life balance is always going to be really important. It's so easy to try and go for everything in the world and try to be everything to everyone. But it's really good to value your peace and your time. And just in general, make time for enjoying your life.
What would you say to someone who is considering a career in STEM?
The sky's the limit in that you can do just about anything that you want to do. It's just kind of finding out how you want to make your mark and what you best enjoy in science. It's okay if you don't like a particular type of science, even if it's a part of the prerequisites to finish a degree. It's okay that you don't enjoy a subject. At the end of the day, it's about getting the overall degree and getting into the career that you really enjoy.