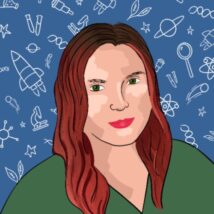 Sarah Zielinski
Editor, Print at Science News Explores
Sarah Zielinski is the Editor, Print for Science News Explores. A former editor at Smithsonian magazine, she has been published in Scientific American, Discover, National Geographic News, Science and Slate. She shared a Gold Award in the Children's Science News category of the 2022 AAAS Kavli Science Journalism Awards for a trio of Wild Things comics and has also received two DCSWA Science News Brief Awards and an honorable mention. She has a B.A. in biological sciences from Cornell University and an M.A. in journalism through New York University's Science, Health and Environmental Reporting Program. She has three cats: Oscar, Saffir and Alani. Support Science Journalism
Science News Explores is a nonprofit. Support us by donating now.
Donate
All Stories by Sarah Zielinski
Chemistry

Crime scene investigators analyze evidence with science, to connect criminals to crimes. And it's often slower and different from what you see on TV.