Rocket competition a blast for young scientists
Students compete in the nation's capital to build the best rocket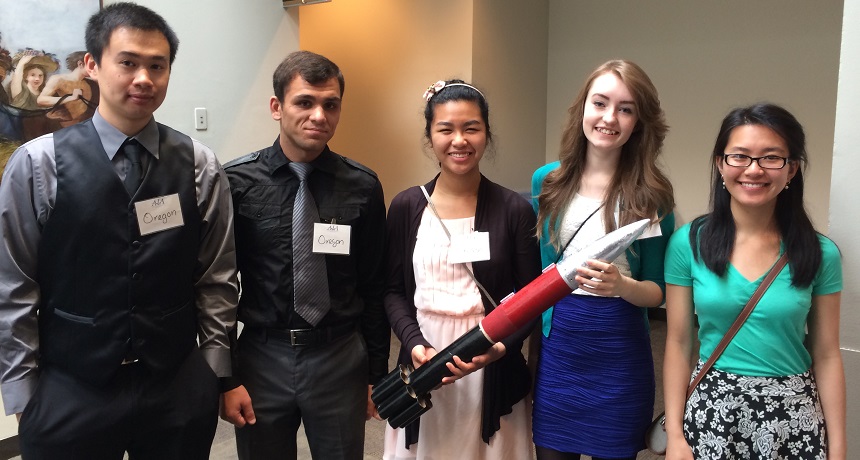 The goal is deceptively simple. Design a rocket that can go 825 feet in the air and back in a 48 to 50-second time window. The rocket must weigh less than 650 grams. Most importantly, it must deploy two parachutes to deliver its payload, two delicate raw eggs, back to Earth unharmed. As 707 middle and high school student teams found, it really is rocket science. The top 100 teams flew their designs against each other May 10 in The Plains, Va.
At the 12th annual Team America Rocketry Challenge, a rocketry team from Creekview High School in Canton, Ga., took home the first-place prize. The group's two eggs landed unbroken in two separate flights. And the teens' rocket reached within one foot of the required height. The team members soon will be traveling to England to fly their rocket in the international rocket fly-off. Along with the nine other top-scoring teams, they also shared $60,000 in prizes.
The rockets took many forms. A silver, red and black model from the Rocketry Club at David Douglas High School in Portland, Ore., was a combination of cardboard, balsa wood, packing peanuts and straw. It took the club participants all year to complete their design. "I was looking for more after-school activities," says team member Kevin Lai, 18, "and I realized that I could do this!"
A group of homeschooled students and teens from Penn High School in Mishawaka, Ind., sported neon green ties. These matched the neon green rocket, where two eggs were carefully cradled in foam. The group got together through the local 4H, and spent six months working out a perfect rocket design. Team members say they learned a lot of physics to build their design. But to Adam Hellinga, 16, the most important part was that "we learned to work together. To put our ideas together."
Teams first compete in local qualification flights. The top 100 teams then move on to the finals in Washington, D.C., where they meet with government representatives and pit their rockets against each other in a flight to the finish. Contest rules and forms are available for the 2015 fly-off. Applications will be accepted until Dec. 12, 2014.
Follow Eureka! Lab on Twitter
Power Words
physics  The scientific study of the nature and properties of matter and energy. Classical physicsAn explanation of the nature and properties of matter and energy that relies on descriptions such as Newton's laws of motion. It's an alternative to quantum physics in explaining the motions and behavior of matter.