Learning will change with COVID-19's social distancing
Hong Kong's experiences offer lessons for students and teachers everywhere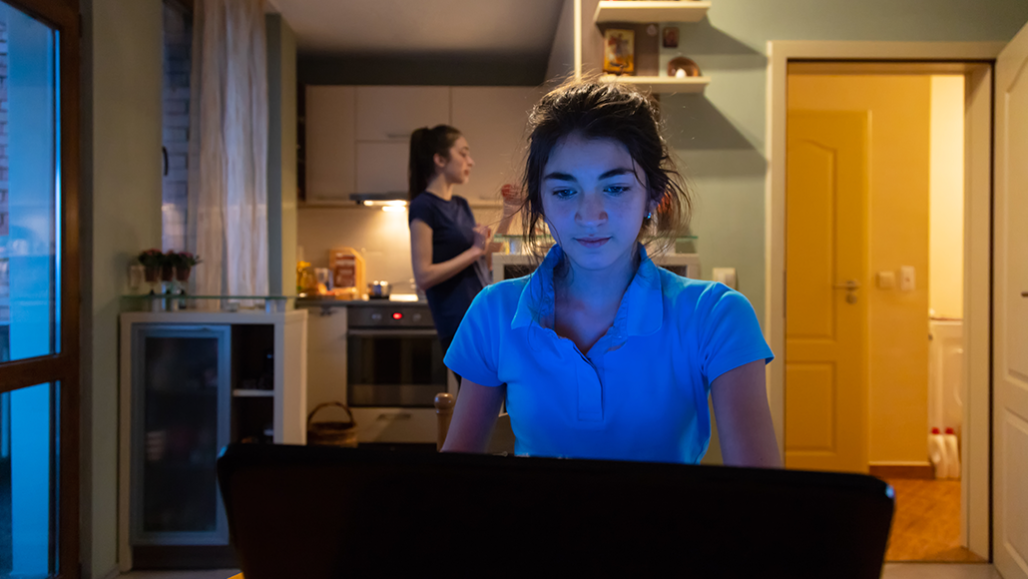 In response to the spread of COVID-19, on February 3, 2020 the islands off the east coast of China, known as Hong Kong, closed their schools. This sent home more than 900,000 students in this self-governing region of China. The students' first priority: Begin some serious social distancing.
With half the school year yet to go, nearly all schools reached out to offer those students online learning. Much like those in the United States soon would be, teachers and students were caught off-guard. They had little time to adapt.
After weeks of trial and error, Hong Kong's teachers — and students — can share what they've learned. Plenty of challenges emerged. So did some tips for success. What they now share can help communities of students anywhere who may be forced to face the new normal of learning from home.
Student voices
For 11-year-old Emma, there hasn't been much difference between distance learning and attending classes face-to-face. She begins her lessons at 8:30 a.m. Instead of walking into a classroom, she now turns on her computer to see live-streamed lessons. Emma takes about four classes per day. Each lasts around 30 to 40 minutes.
The seventh-grade student attends King George V. It's an international school in Kowloon Tong. To Emma, "It's good to keep a schedule. In the beginning, it was hard to get into a routine and I ended up missing a few deadlines. Now, I think of it as a normal school day."
Students are using several online-learning platforms to join daily meetings with teachers and classmates. Some schools have paid for their classes to take place on Google Hangouts Meet. Others use Zoom, Microsoft Teams or BigBlueButton.
Webinars are live, usually interactive events that take place online. Instructors use audio and visual communication to share data, skills or information with their virtual students. The software for these programs allows teachers (or students) to share slides or uploaded pages. The group then can share or discuss these in real-time through chat boxes or other features. Some platforms also allow a webinar to be recorded and viewed by invited users at a later date.
In theory, webinars should make access to real-time communication easy. In practice, however, students have experienced some challenges.
"It can be easy to get distracted when you're online," says Marcus, an eighth-grade student at Island School. "I keep my camera on to help pay attention but get sidetracked when I see the gallery of faces. It can be hard to resist the temptation to send messages or check my email."
Along with the challenges of online platforms, research shows that staring at a screen for long periods can lead to fatigue and stress. And coupled with kids' already heavy use of screens for entertainment, using them all day for classwork from home may tempt students to overdo it. And many studies have shown that can be unhealthy.
With a student's health and wellbeing in mind, many schools have therefore set aside time for "brain breaks." These allow students a chance to move, dance or play. Says Emma, "Taking regular breaks helps me relax and gets me ready for the next online session." Also, in her small neighborhood, the kids have coordinated recess times to get together — at a distance. "Everyone needs to get out, exercise and talk to friends," she says. "We just make sure to keep enough physical distance."
Elsewhere, even such brief in-person meet-ups may be discouraged. The 2020 coronavirus pandemic has been especially aggressive in the United States. Since late March, people there have been asked to stay home as much as possible. They can congregate only via their phones or the internet.
Problems as opportunities
Zachary Post is the middle-school principal of the American International School in Hong Kong. He says that students' online-learning experiences have been improving as they adapt to new technologies. "Teachers and support staff have been reaching out to parents and are working extremely hard to troubleshoot a variety of issues," he finds. These can range from problems logging in to downloading the needed software.
Natalie Milman confirms the importance of communication during this "emergency remote teaching and learning." She works at George Washington University in Washington, D.C. There, she directs the Educational Technology Leadership program. Her advice for participants in this online-learning world is to communicate expectations and problems. Milman says, "They need to know the different platforms they are using and how often to check their email for announcements."
There is no way to know everyone's situation, she explains. So teachers need to be patient and flexible. And they also need to "go the extra mile and reach out" to those who may be struggling.
Post agrees that constant communication is vital to making sure all students can access their lessons and feel supported. Now, after weeks of watching kids build new tech skills, he sometimes drops in on their virtual classrooms. And he reports seeing students and teachers "confidently" navigating their digital portals to online learning.
His school has attained a very high attendance rate. This is true even though its students and teachers all work remotely. In the end, he "aims to achieve a level of progress similar to a typical school day," he says.
Post acknowledges there have been some initial hurdles to online learning. But he also recognizes some new benefits. "I like to see problems as opportunities. I believe this situation is giving students a chance to effectively manage their time, apply their IT [information technology] skills and communicate across a broader setting. They are becoming true 21st-century learners."
Dynamic collaboration
With little time to prepare, most teachers have been "learning on the go," says Vanessa Sheppard. She's a middle-school teacher at Kowloon Junior School. Most of its teachers were using computers or tablets to teach before the COVID-19 crisis. Since the pandemic shuttered their school, they have successfully adapted to moving all of their lessons and interactions with students online.
It took some work to make this transition, she says. But she's finding that "teachers are learning from each other. Online programs are now shared between teachers at warp speed to help create a vibrant learning experience for students."
What's changed, she notes, is the classroom interaction. "You don't realize the micro-adjustments you make when getting live student feedback," says Sheppard. She doesn't see the look of puzzlement or boredom when students don't understand something — or excitement when they suddenly experience a eureka moment. "I miss the active collaboration," she says.
And students can experience similar frustrations. Teachers may not see how they are reacting to a lesson. Classmates no longer collaborate in hands-on projects. And when problems arise, students have to be more pro-active to let their teachers know. That can be hard for students who are shy.
The American International School uses Zoom Pro. It features a Breakout Room function as well as live whiteboard tools. During lessons, students are assigned to small group discussions. They also can make presentations that are observed by parents and teachers alike. "This has created a more class-like social-learning environment," says Post. Even online, there can be a "back-and-forth dialogue between multiple people."
Also, teachers say creating a student-led learning community has increased student motivation and engagement. The result: Students have been turning in higher quality work.
Hurdles to learning online
Some research has found that students can perform equally well in in-person versus virtual classrooms. Among them is one study conducted more than a decade ago by researchers at the University of Maryland, Baltimore County and the University of Arizona in Tucson. It found that students could learn more from a course taught online than in the same class — taught by the same teachers — in a traditional school classroom.
This was true when the online lessons were paced by a learner's needs, reported Dongsong Zhang at Maryland and his colleagues. Some materials for the class were posted online and could be replayed again and again until a student understood them. Or, students could skip ahead when coming to material they fully understood.
In fact, online classes may need to be presented somewhat differently, says Richard Culatta. He heads the nonprofit International Society of Technology in Education. It's based in Arlington, Va. "So often, when we start to move over to online learning," he says, "we immediately think of the content." By that, he meant that teachers might upload their notes or text to an online portal for their students.
But that can be boring and impede learning, he says. To be effective in the online world, teachers will have to do far more, he says. To help them, dozens of educational organizations (including his) created Learning Keeps Going. Produced in response to the COVID-19 crisis, this website has links to lots of tools.
Learning works best when it's a social and engaging activity, he says. And, he adds, teachers have to "think about how to make sure there's still times where everybody can get together" — even if it's just online in a shared meet-up.
Of course, not all subjects transfer to online teaching equally well. Beverly is a seventh-grade student at Renaissance College in Hong Kong. She has found it especially challenging to keep up with science lessons. You can't do the same lab work at home as in well-equipped classrooms. "At school, we would have the necessary equipment to conduct experiments," she notes. "But we don't have this at home." While she can still learn knowledge and concepts, she misses "the hands-on experience."
And that's understandable. But Culatta points to virtual science labs as one alternative. For safety reasons, he notes, "a lot of schools say you have to do a virtual chem lab first [before doing labs in the classroom]." Are these as useful and rewarding as doing experiments in a real science lab? "Of course not," he says. "But it is a pretty darn good solution if you don't have access to one for a while."
Some teachers are trying to simulate the hands-on experience remotely. Caroline Pringle is one of them. She's a middle-school science teacher at the American International School. Hands-on science and testing let students "learn from their mistakes," she says. It also helps them understand the gap between theory (what should happen), she notes, and practice. (That's what actually happened when you tried to do something.)
Pringle's goal is to design experiments that students can do at home — ones that encourage them to develop their scientific skills. For instance, her eighth-grade students are modeling the process of cell division. Their equipment: Play-Doh, toothpicks and string. Seventh graders are using books to model plate tectonics. Pringle also uses programs that provide online science simulations (such as Gizmos and PhET by the University of Colorado Boulder).
"In the beginning, everyone was overwhelmed," she says. "Students were easily distracted." To counter this, she developed a range of ways to hook their interest. For instance, she might have students answer two questions posed by classmates. Or they might complete a mini-quiz on Padlet. That's an online bulletin board where students can post their answers and ideas.
Pringle also finds that instead of setting one big deadline for the end of an assignment, it is better to break up tasks into smaller parts that are due throughout a week. "I am now getting well-thought-out projects. And the students find it easier to stay on track," she says. Educators and Parents, Sign Up for The Cheat Sheet
Weekly updates to help you use Science News Explores in the learning environment
Thank you for signing up!
There was a problem signing you up.
The virtual world
The biggest hurdle to online education, of course, would be a lack of access to the internet. And there are still families that don't have a computer or a computer that can handle the needed software. Many households also lack the high-speed internet that would give kids stable access to virtual classrooms or an ability to browse the internet.
Such limitations can make online learning seem impossible. But it doesn't have to be, Culatta says. In response to the ongoing pandemic, some U.S. schools and companies have stepped in and begun offering families laptops, tablets or other technology. This can include temporary access to school computers and very low-cost internet (see sidebar),
Without question, Culatta says, the COVID-19 pandemic is "a tragedy." And the call for social distancing has created an extremely challenging environment for students, parents and teachers. Eventually, however, life will return to normal. When that time comes, he believes, online learning will also be normal.
When schools reopen, he predicts, students will return to them with a new appreciation for how well they can navigate in both the real world and the virtual world. In fact, he argues, both teachers and students are going to need their digital skills "to be successful in the future. This might not have been how we wanted them to get [those skills], but there is value that comes out of this [trying time]."
Post agrees. And those skills may not just be of use in the distant future. What kids are learning now, he says, will prepare them for future disruptions — and not just pandemics. "This experience will change how we approach school suspensions for things such as bad weather days," he says. "The next time we need to move to remote learning, we will be prepared."