New technologies might help keep drought-prone farms green
The different systems would tell farmers when and how much water crops need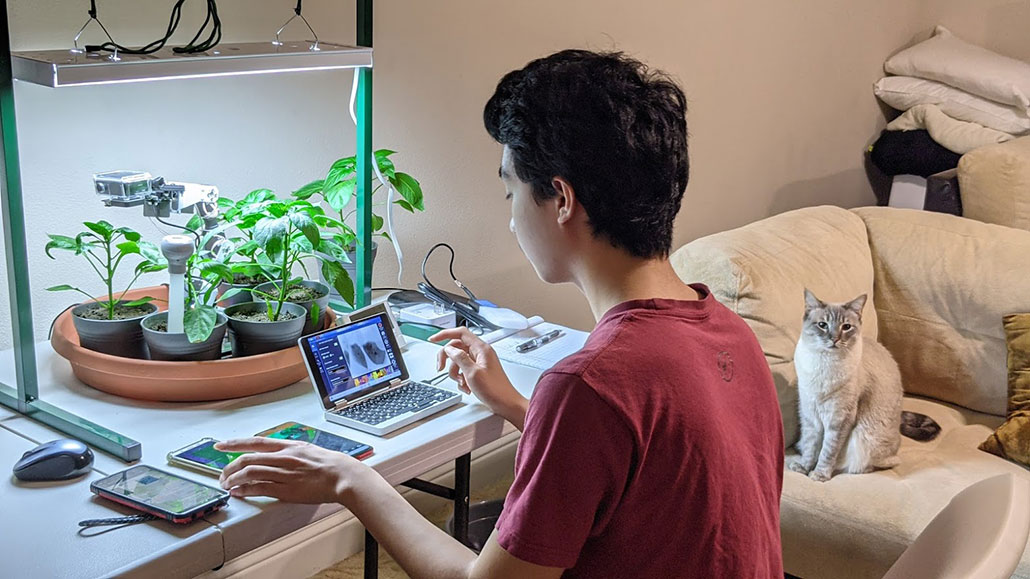 Droughts are one of a farmer's most feared threats. And in our warming climate, the risk of drought has been climbing. Anticipating a drier future, two teen engineers have been investigating how to help farmers keep their crops from getting dangerously thirsty. Working on opposite sides of the United States, the teens used different methods to fight to keep plants green. Their inventions landed each a major award at this year's Regeneron International Science and Engineering Fair.
John Benedict Estrada, 16, identified a way for a robot arm to measure plant thirst. For his work, John won the $50,000 Gordon E. Moore Award for Positive Outcomes for Future Generations.
Arya Tschand, 17, mounted a somewhat simpler plant-thirst detection system on a drone. His proof-of-principle tests show those flying sensors could then tell ground-based irrigation systems which plants need water — and how much. Arya took home ISEF's $10,000 Craig R. Barrett Award for Innovation.
Both teens showcased their research to the public on May 18 as part of the ISEF competition. Created by Society for Science, the fair moved online this year due to the COVID-19 pandemic. (The Society for Science also publishes Science News for Students.) This year, nearly 2,000 high school students from 64 countries, regions and territories showed off their projects online. With posters, videos and images to present their work, the teens competed for $5 million in awards. Educators and Parents, Sign Up for The Cheat Sheet
Weekly updates to help you use Science News Explores in the learning environment
Thank you for signing up!
There was a problem signing you up.
Pinpointing plant thirst
Dry spells can stunt or even kill crops. Living in California's Central Valley, John has seen lots of these droughts. A sophomore at Clovis North High School in Fresno, he wanted to help farmers save their plants from getting dangerously parched.
The main model scientists use for drought stress in crops relies on measuring things such as how dry the air is above farm fields and how hot a plant gets. (John's little sister, Pauline Estrada, used this model of drought stress when she built a plant-sensing rover. Based on this project, she was a finalist last fall in the Broadcom MASTERS competition. It's held for middle-school researchers.)
John wanted to see if he could measure a plant's drought stress more directly. So he built a small robotic arm and used it to measure the light reflecting off of bell peppers. As plants get dry, the way they reflect blue, green and red light changes very slightly. It's not something that our eyes can see. But it is something a robot could detect. At the same time, his robot measured soil moisture and temperature.
With these data, he built a computer model. It predicts which plants will be suffering from thirst faster than other methods, John says. Identifying at-risk plants, he says, can point farmers sooner to where they should start watering — before their plants truly suffer. "Next year, I am planning to do a field experiment," John says. He might even borrow his sister's rover "to collect field data and adapt my … model to actual field conditions."
Drones for drought
It's also important to make sure that no irrigation water is wasted. That's why Arya Tschand, 17, has been launching his drone into the sky. This senior at High Technology High School in Lincroft, N.J., aims to help poor farmers like the ones he saw while traveling in India.
"I would gaze in utter disbelief across endless fields of wilted crops," he says. The problem, he learned, was water shortage. So Arya set out to find ways to limit water waste.
The teen's drone hovers over plants and measures their color. Using a computer model, Arya taught the drone to predict how thirsty a plant was based on the color of its leaves. Based on that color, the drone then sends a signal to an irrigation system on the ground, which adjusts how much water it sends out to plants.
Currently, many farmers irrigate using pipes with holes. Arya's system adds a small valve that adjusts how much water is going in to the pipe. This ensures crops get as much was as they need, but not too much. In areas with drought, where every drop matters, farmers can't afford to waste any moisture.
"I didn't have a field of crops to test my drone on, so I used some plants I had at home," Arya says. Like John, his next step is to scale up his project. In the meantime, he has applied for a patent on his system.
"I know that making even the smallest improvement with my project has the potential to significantly help people affected by water shortage," Arya says. The best thing about science like this is that every little drip of water research helps.