Lost lander spotted on comet's surface
Spacecraft tumbled into the shadow of a cliff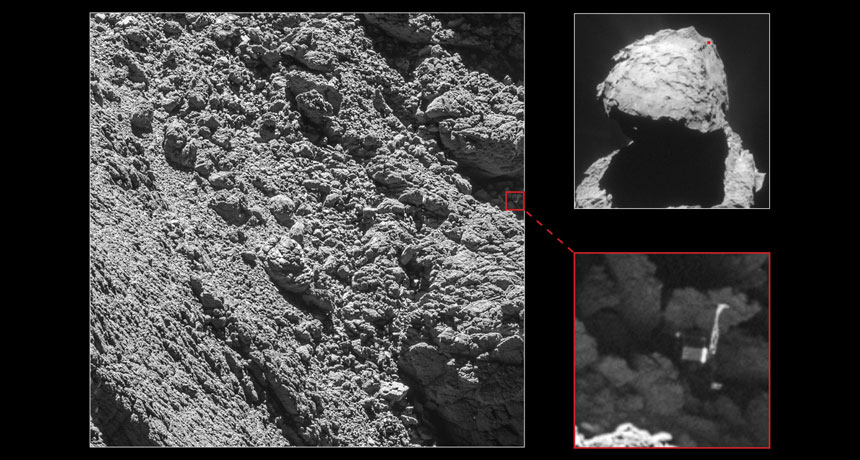 Philae has been found! This comet lander sits nestled in a shadowy crevice on 67P/Churyumov-Gerasimenko. It has been sitting there lost — and mostly quiet — since November 12, 2014. That's when it made a tumultuous touch down on the comet. But on September 2, almost 22 months later, the missing lander turned up in images taken by the Rosetta spacecraft. Rosetta is currently orbiting the comet.
Philae is resting on its side. One of its legs sticks out into sunlight. This cockeyed posture likely explains why Philae had a hard time getting in touch with Rosetta. Mission scientists on Earth had been trying on and off for years to establish communication with the missing lander.
Finding the tiny spacecraft comes not a moment too soon. In about one month, the Rosetta mission will end. On September 30, that orbiter is scheduled to itself land on the comet. It will then shut down.
Philae's landing was rough. It bounced twice before stopping in the shadow of a cliff.  It spent just a few days transmitting data from the surface of the comet. Without sunlight, Philae was unable to use solar power to recharge its battery. Rosetta picked up intermittent communication with the lander in June and July 2015. Since January of this year, however, temperatures on the comet have been too chilly for Philae's electronics. Mission scientists stopped listening for radio signals from the lander in July.