For teens, big problems may lead to meaningful research
Both local and global issues inspired these 2020 Regeneron Science Talent Search finalists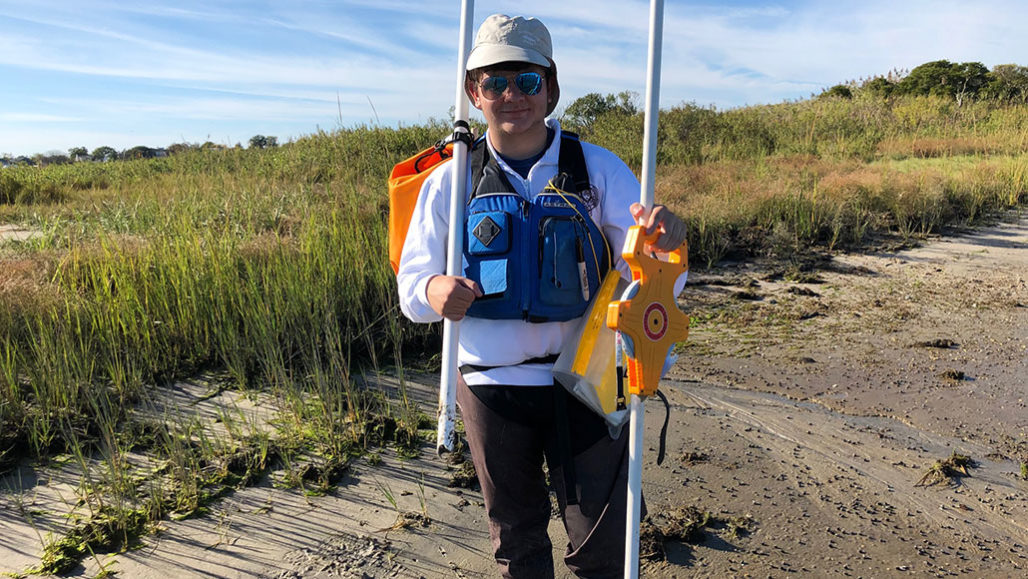 Many people see a problem in the world and don't know what to do. They might throw their hands up in the air — leaving it for someone else to find a solution. But few finalists of this year's Regeneron Science Talent Search feel this way. They let personal or social problems inspire their research.
Established in 1942, the Regeneron Science Talent Search, or STS, is the nation's oldest and most prestigious science and math competition. Each year, it brings together 40 high school seniors from around the United States. They compete for awards now valued at more than $1.8 million. In response to the pandemic, this year's competition is being held online.
And for many of its finalists, their research project this year wasn't just a competition entry. It was a way help others.
Take Andrew Brinton. He was 10 years old when Hurricane Sandy battered the U.S. East Coast in 2012. From his home in Merrick, N.Y., the boy experienced the storm firsthand. "I looked out the window and I saw a car floating down the street," recalls Andrew, now 17. He found it "really scary." Soon, he was researching hurricanes. He learned about damage caused by storm surges — when winds push water ashore. He also learned how salt marshes can protect inland communities by buffering those waves. These "living shorelines" ended up fascinating Andrew.
He started mucking about in Long Island's salt marshes. "I was walking across … places that nobody had been for more than 60 years," he says. Andrew noticed a buildup of certain mussels, a type of mollusk, in very grassy areas. Scientists have linked the health of marsh grasses to the ability of shorelines to absorb the energy of waves. Andrew became curious: Could those grasses and mussels work together as partners in that energy absorption?
To test the idea, he surveyed mussels at 10 marshy areas using a grid that he toted from site to site. He'd take a picture and count the mussels in each place. At healthy sites, he found that grass and an abundance of mussels often occur together. This may be because the grass creates a safe haven for the mussels. At the same time, he says, mussels provide nutrients that help the grasses grow. His data now suggest that mussels and grasses together help restore marshes that can protect coastal communities. Educators and Parents, Sign Up for The Cheat Sheet
Weekly updates to help you use Science News Explores in the learning environment
Thank you for signing up!
There was a problem signing you up.
Fighting helplessness with action
Students across the United States have grown up seeing school shootings on TV. Ellie Yang of Chesterfield, Mo., was in fifth grade when a tragic shooting took place at Sandy Hook Elementary School in Connecticut. Like many kids, she felt helpless. In high school, though, she began to feel different. She "decided to take action after seeing the effects of gun violence in my own life," says Ellie, now 17.
She set out to train computers to identify guns, knives and blood from social media feeds or in footage from security cameras. Software that scans those images could help first responders react more quickly when a violent event occurs, she says.
Ellie picked up her computer science skills in online courses. But she wanted to use machine learning for her project — training a computer to do a task by giving it a lot of data. To get started with machine learning, she needed help.
She found it in a company called Hive. As a summer intern there, Ellie labeled millions of images. Those images would train her program.
A mentor from Hive and the support of a machine-learning team helped her build a program that determines the threat of violence from unlabeled pictures or video footage. Ellie had never taken on such a large project before. "It was really exhilarating … to go through the process," she now says.
Bringing home the beehive
Raina Jain's STS project started in science class. Her teacher challenged this Riverside, Conn., teen and her classmates to find global problems in the news that lacked solutions. Raina, 17, zeroed in on colony collapse disorder in bees. This happens when worker bees abandon their hive, eventually causing the hive to die. Raina visited a beekeeper, a friend of her parents. She wanted to observe this problem up close. "Every year, he loses 60 percent of his hives," she learned. "That shocked me."
Parasites, including the Varroa mite, play a role in colony collapse disorder. A chemical called thymol can help rid bees of the mites. Beekeepers often leave out a thymol-containing gel. Bees can apply it to themselves while cleaning. But that gel doesn't work the same way at all temperatures, Raina notes. On hot days, for instance, it releases higher levels of thymol — amounts that might harm bees. The gel also might limit bees' ability to fly or even contaminate bees' eggs.
Raina wondered if there was a better way to protect bees. She developed her own thymol-containing gel. Then she designed a 3-D-printed beehive entrance that would coat the bees. She tested how fast her gel formula would degrade in the sun and wind by applying the gel to a non-bee drone. Raina even kept a beehive in her backyard to test her gel's effectiveness. (Her dad was surprised when it arrived, she recalls.)
Now, hundreds of beekeepers around the United States are helping Raina further test her invention. "Probably the hardest part of my project was to get people to actually use it," Raina says. It took time and thousands of emails, she says. But now further data collection is underway, she says.
Predicting crop yields a world away
Malnutrition is a problem faced by millions of people around the world. Lillian Petersen, 17, of Los Alamos, N.M., didn't have to look across an ocean to see the effects, though. She just looked across the room at her three adopted siblings. "They all faced malnutrition in their former home," Lillian notes. She saw how their coordination and speech lagged behind that of their peers. Lillian helped them catch up in their reading and writing. "Working with them every day to help attain those goals opened my eyes to the huge effects of malnutrition," she says.
Lillian wanted to do something to help curb malnutrition on a grander scale. The project she came up with helps people in low-income nations predict their crop harvests.
Many African countries only track total crop yields at harvest, Lilian says. They lack early information that could help figure out how factors such as drought might affect the amount of food that would later be available for harvest. Such predictions could help governments plan for lean times and prevent malnutrition.
Lillian created a computer program that gleans information from satellite imagery to estimate the health of crops. It focuses on color. Reddish or brownish crops typically are less healthy than greener ones. A computer model she built now can predict crop yields based on that imagery.
Lillian tested her program on satellite imagery from Illinois. Later, she applied it to every country in Africa. When compared to data collected after the harvest, her predictions proved fairly accurate. The teen even got her work published in Remote Sensing on November 1, 2018.
Her project, like those by Andrew, Ellie and Raina, show that even high-school students can tackle big problems — and sometimes have a big impact .
Sponsored by the pharmaceutical company Regeneron, STS was created by the Society for Science & the Public, which still runs it. (The society also publishes Science News for Students).
Lillian Petersen wins the big prize
On the evening of July 29, the Regeneron Science Talent Search (STS) competition named its winners. Lillian Petersen took home the top prize: $250,000. In all, the 40 finalists shared more than $1.8 million in prizes. The high-school seniors were judged for the scientific rigor of their projects, their problem-solving ability and their potential to become research leaders.
"Students like Lillian Petersen are the stewards of our future," said Maya Ajmera. President of Society for Science & the Public, which runs STS. Ajmera also is publisher of this magazine and a 1985 STS alumna. "The current pandemic has made it clear how important science is to our wellbeing. With these finalists at the forefront of scientific and engineering discovery, I know we are in good hands. They will be solving the world's most intractable problems."
Jagdeep Bhatia, 18, of Green Brook, N.J., came in second and will take home $175,000. He created two fast and simple machine-learning algorithms (instruction) for computer programs. This advance in artificial-intelligence might one day help people more quickly and easily train robots and other automated devices. Brendan Crotty, 18, of Muskogee, Okla., came in third place. He will take home $150,000. His project was the development of an efficient hybrid gas burner. It could help cut the energy impact of industries such as power generation and materials manufacturing. Seven other finalists took home from $100,000 to $40,000 prizes. The remainder each received $25,000.