Bang, sparkle, burst, and boom
Fireworks put on a dazzling, colorful chemical show.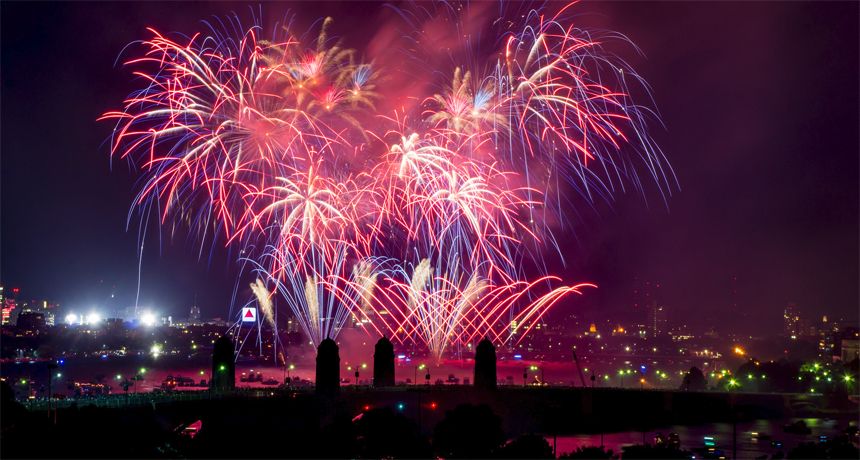 Sparkling blue flashes. "Ooh!" Cascading streaks of red light. "Aah!" Sizzling green explosions. "Wow!"
For many people in the United States, the Fourth of July means one thing: Fireworks. And they're not alone.
Independence Day fireworks at Riverside Park in Yankton, Missouri.
National Park Service photo by Linda Gordon Rokosz
"Every country, it seems, has a fireworks day," says John Conkling. He's a chemist and fireworks researcher at Washington College in Chestertown, Md. "People universally seem to get a deep satisfaction from watching fireworks," he says.
Viewer satisfaction demands serious science. All year long, researchers such as Conkling mix and burn chemicals in the lab to see what kinds of flames they can create. Now, with advances in technology and chemistry, holiday celebrations are more dazzling and colorful than ever.
People have been watching fireworks for more than 2,000 years. "There has been a really dramatic change in the appearance of fireworks," Conkling says, "from merely being devices that go up into the air and explode to the dramatic color displays we have today."
Gunpowder blasts
At its core, a firework contains a mixture of chemicals that burn well. These mixtures are produced in the form of gumball-sized pellets, which are held inside a cylindrical shell, or cartridge. Gunpowder at the bottom of the cartridge launches and ignites the firework. A special fuse delays the explosion until the cartridge is airborne.
Every type of firework is designed to burn for a certain amount of time in particular colors and patterns. The presence of different chemicals produces different colors.
Fireworks at Mount Rushmore National Monument in South Dakota.
National Park Service
Sodium compounds, for instance, produce a yellow flame when burned. Barium nitrate burns green, and magnesium and aluminum burn white.
If Conkling wants to make violet, he has to mix a red-producing chemical, such as strontium nitrate, with blue-producing copper salts. The more strontium nitrate and less copper that he uses, the redder the final shade will be.
"There's really no color that you can't make," Conkling says.
Bursting suns
When Conkling develops fireworks, he starts with what he already knows about how particular chemicals burn. Then, he puts materials together in his lab and ignites them under a ventilated hood. He alters proportions through a process of trial and error to get the result that he wants.
Fireworks display on July 3, 2003, at the Cowpens National Battlefield in South Carolina.
National Park Service
Certain chemicals, combinations of chemicals, and packaging strategies produce special effects. Fireworks that burn slowly, for example, leave trails behind them and look like strings of colored spaghetti. Quick burners look like bursting suns.
Some ingredients produce streaks of light that dart around like grasshoppers trapped in a jar. If materials are pressed tightly in a tube, blowing them up makes loud whistling noises. The addition of a type of chemical known as a perchlorate makes a big, loud boom.
"The sky's the limit, so to speak," Conkling says. "Imagination is the only limiting factor."
When lab tests are complete, companies make pellets of the new mixtures to try them outdoors before manufacturing them in large numbers.
Electronic control
One of the newest trends in fireworks, Conkling says, is the use of patterns. By arranging pellets in a flat layer inside the cartridge, researchers have figured out how to make fireworks that explode in the shape of hearts, Olympic rings, and other objects.
4th of July fireworks at Gloucester, Massachusetts.
Commander John Bortniak, NOAA Corps (ret.)
However, the shapes are clearly visible only from certain angles. "The biggest challenge is to get them oriented," Conkling says.
The only solution at this point is to launch three or four of each shape at a time. "When they burst, one is usually quite apparent to people on the ground," Conkling says. "People in other locations might see another one better."
Fireworks experts have also moved into the computer age. Instead of lighting fireworks by hand, which is dangerous, major shows now rely on electronic devices and cables to control the timing of the launches.
Computer programs also allow choreographers to set off explosions that match music playing in the background. Such touches are always big crowd-pleasers.
Studying fire
The more you learn about fireworks, the more you might appreciate the Fourth of July and other celebrations with the eye of a scientist.
Fireworks at the National Mall, with a view across the Potomac River toward the Washington Monument and the Lincoln Memorial.
National Park Service
"I'm sure I view presentations quite a bit differently than many people," Conkling says. "I try to analyze everything. I love when I see something that I haven't seen before. Then, I try to figure out how they did that particular effect."
Even just studying fire and explosions can be exciting, Conkling adds. It's a great area to work in, he says. "I get a bang out of it."
For safety's sake, it's best to avoid experimenting with any type of flame or explosive chemical unless you're working alongside a trained professional. Lots of people end up in the emergency room every year with severe burns after launching their own explosives.
Instead, if you watch a fireworks show this year, try to focus on what you see and hear. After all, every bang, sparkle, burst, and boom is an amazing example of chemistry in action.
---
Going Deeper: