Chocolate Rules
Scientists unravel the mysteries of what makes chocolate yummy and even good for you.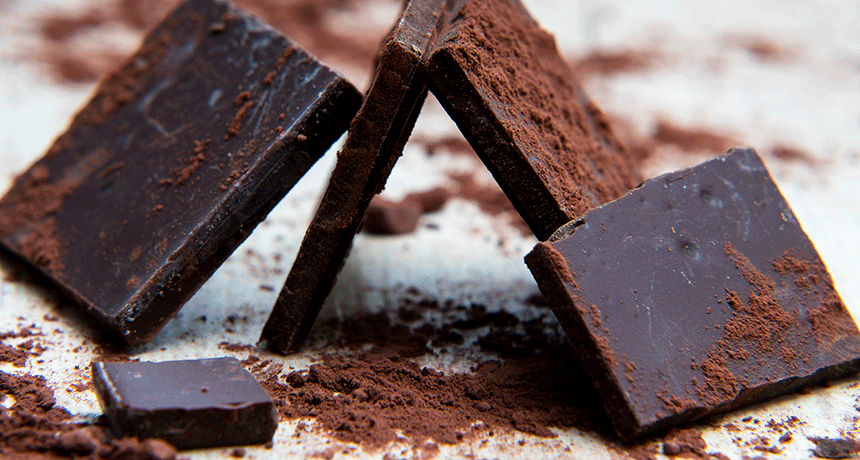 For a lot of people, there's no better taste combo than chocolate and nuts. For food scientists, though, this combination is a major headache.
Nuts contain oil, says Greg Ziegler, who studies chocolate at Pennsylvania State University. The nut oil tends to seep, or diffuse, into the chocolate. This process softens the chocolate, which also turns a chalky color. People no longer want to eat it.
Oil diffusion is just one of many problems that chocolate scientists face in creating the different kinds of chocolate sold in stores. Depending on the type of cocoa beans, processing conditions, and ingredient proportions, chocolate products can end up with different flavors, textures, shapes, sizes, and even nutritional properties.
Chocolate products of all sorts are in great demand, especially around holidays and for special occasions. In December, for example, you can buy dark chocolate Santas and crispy chocolate reindeer. Around Easter, there are hollow chocolate bunnies and cream-filled chocolate eggs. At this time of year, for Valentine's Day, stores are filled with lots of chocolate candies.
As appetizing as these treats may be, it's the science behind chocolate that helps determine which types people choose to eat. And, despite years of research, exactly which combinations of factors make some types tastier or more appealing than others remain a mystery.
It's a mystery that chocolate companies are eager to solve—and one that keeps chocolate scientists busy.
"The process of making chocolate is very complex," Ziegler says. Despite a lot of work, "there are no hard and fast answers yet."
Work in progress
Chocolate, as we know it today, has been a work in progress for thousands of years.
People in Mexico and Central America were the first to pluck seed-containing pods from cacao trees and grind the seeds (or beans) into a powder for a spicy, frothy, bitter drink.
A cacao pod split in half reveals several cocoa beans nestled inside the tough casing.
Photo by Keith Weller, Agricultural Research, U.S. Department of Agriculture
The explorers Christopher Columbus and Hernando Cortez brought cocoa beans back to Europe early in the 1500s. Even then, no one knew quite what to do with the beans because the resulting drink tasted so bitter. Finally, Cortez had a brilliant idea: Add sugar!
Sweet drinking chocolate rapidly became a special treat for royalty across Europe. As production increased, chocolate grew cheaper and more popular. Finally, in the 1800s, advances in England and Switzerland led to the creation of solid chocolate, which people still crave today.
Making chocolate
The basic process for making chocolate hasn't changed much since the 1800s. After beans are removed from their pods, they go through a few days of fermentation to get rid of some of the bitterness. Then, the beans are dried, either in the sun or under hot-air pipes.
Finally, the beans are shipped to candy companies, where they are cleaned, sorted, and roasted for anywhere from 30 minutes to 2 hours. Both roasting time and temperature (250 degrees F. or higher) have a big effect on how the chocolate tastes in the end. So do drying methods, bean variety, and growing conditions, including temperature, moisture, and soil composition.
Once roasting is finished, the beans are crushed and separated into three parts: a bitter liquid called chocolate liquor, a fatty, yellow solid called cocoa butter, and a powder that is often used in cakes and cookies.
Dark chocolate has just three main ingredients: chocolate liquor, cocoa butter, and sugar. The liquor, which is not alcoholic, is the bitter part. Sugar counters the bitterness, and the cocoa butter adds fat. Milk chocolate also contains milk solids. White chocolate is just sugar, milk solids, and cocoa butter, with no liquor.
Dark chocolate is made from chocolate liquor, cocoa butter, and sugar.
Less than one percent of a finished chocolate product is made up of flavorings, such as vanilla and salt. There's also often a small amount of an emulsifier, such as soy lecithin, which keeps the sugar suspended and spread out in the solid. If you check the ingredients label on the back of a chocolate bar, you might see soy lecithin in the list.
Flavor experiments
Playing with the ratios of the main ingredients and adding fillings are two major ways in which manufacturers experiment with flavors. One look at the candy aisle shows how far chocolate research has come. Modern chocolate bars include everything from almonds and raisins to caramel and cookies. Some bars are crispy; some are chewy; some are frozen.
With each new flavor or texture combination, however, comes a new puzzle. Edges are one major challenge, Ziegler says. Coatings tend to thin out at the corners of a bar.
Then, there's the nut problem. After years of research, scientists have come up with strategies for making nutty chocolate last longer. Some companies, for example, create bars that place a physical barrier, such as a candy coating, between the chocolate and the nuts or peanut butter.
Being selective about the type of cocoa butter is another way to slow diffusion. Varieties of cocoa butter that are extra-solid work best. It also turns out that there are six different kinds of crystals that can form inside cocoa butter. Some of these forms are more resistant to oil diffusion than others.
Still, plenty of questions remain. Ziegler is pretty sure that nut oil actually dissolves in cocoa butter. This process, he suggests, is what ruins the chocolate's texture and color. Other scientists propose that chocolate acts more like a sponge, sucking up the oil through a process called capillary infiltration.
This chocolate product has a peanut-butter filling and a milk-chocolate coating.
"Right now," Ziegler says, "the most important thing is just to get a handle on what physical phenomena are involved." He and his colleagues have used special equipment to get detailed images of what goes on over time inside a piece of nut-filled chocolate.
Eventually, he hopes to come up with a mathematical equation that predicts how nuts and chocolate behave (or misbehave) together. This information could then be used to create products that last longer.
"We might find out that it's not only different crystal types but also the size of crystals in the fat that are important in determining how quickly the oil dissolves," he says. "Then, we could change the crystal proportions."
Good taste
While Ziegler is hard at work on the nut quandary, other researchers are trying to breed cocoa beans that are resistant to disease but still taste good. Their biggest challenge is to figure out why some beans have hints of flowers, fruits, or raisins, among other flavor notes, and why some beans produce superb chocolate and others don't.
Still others are busy experimenting with textures and sensations. That melt-in-your-mouth quality may in fact be what you crave more than the way the food itself tastes.
In one study, scientists showed that swallowing chocolate-filled capsules didn't satisfy cravings for chocolate nearly as much as actually chewing pieces of chocolate. The researchers concluded that the special sense of well-being that comes from eating chocolate has more to do with the experience itself than with anything actually in the chocolate.
The feel of eating chocolate rather than the chocolate itself has a lot to do with how much people enjoy chocolate.
Yet, even though its chemical makeup may not fuel your cravings, the way chocolate affects your body has become a major focus of chocolate research in recent years. Scientists have discovered that chocolate contains compounds called flavonoids, which might protect against heart attacks, keep you from getting sick, even help cure coughs. Yes, it's true. Eating chocolate can actually be good for you!
So, have a happy Valentine's Day, and eat up. Just make sure to keep your portions reasonable. Despite the wonders of chocolate, it's still loaded with sugar and fat, and no one should eat too much of those.
"It tastes good, and it makes you happy," Ziegler says. "In moderation, it's okay."
Better yet, consider becoming a chocolate scientist. "It's a dream job," Ziegler says. "I like science and figuring things out and understanding nature. But for me, my specific work on chocolate seems to open a lot of doors. It makes people happy. When I tell them what I'm working on, they smile."
Spread the joy. Don't just eat chocolate. Study it!
---
Going Deeper:
News Detective: Emily goes to a chocolate show