When fungi and algae marry
Lichens live in nearly every environment on Earth, but scientists are still discovering basic information about them.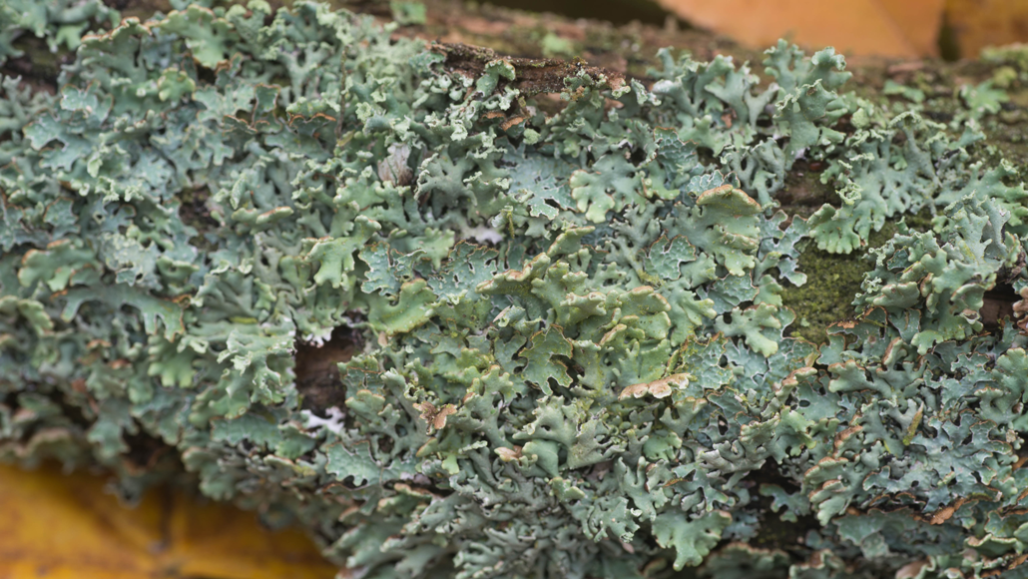 Lichens (LY-kenz) are easy to ignore. They can be microscopically small. They don't move. And they often blend into the background. You might not even recognize one if you were staring right at it.
Chances are, though, you've come face-to-face with plenty of these crusty, leafy, or shrubby growths. Lichens live on rocks, branches, houses, even metal street signs. You can find these often colorful organisms almost everywhere—from deserts to rainforests, Antarctica to Africa. They've survived trips to outer space, and some scientists suspect there might even be lichens on Mars.
"If you go into your backyard, you will definitely find a lichen somewhere," says Imke Schmitt, a lichen researcher—called a lichenologist—at the University of Minnesota, Twin Cities.
What you probably don't realize is that a lichen is more than a single thing. It is a thriving relationship between two different types of living organisms: a fungus and an alga. Neither of these organisms is a plant, so the lichen isn't a plant either.
Different species of lichens can look very different from each other. Thorsten Lumbsch, a lichenologist at The Field Museum in Chicago, took photographs of two varieties of lichens—a rock lichen (above) and a spot lichen (below)—during a recent trip to India.
Thorsten Lumbsch
Thorsten Lumbsch
Through photosynthesis, the alga harvests the sun's energy to make food for the fungus, which provides a place for the alga to live. But the relationship is lopsided, Schmitt says, with algae caged like prisoners—even slaves—inside their fungal hosts.
Around the world, scientists have identified tens of thousands of types of lichens. At least as many probably still await discovery, says Thorsten Lumbsch, a lichenologist at the Field Museum in Chicago.
"Even in North America, there is a huge lack of knowledge" about lichen diversity and biology, Lumbsch says. "There's a lot still to discover."
As lichenologists continue to find new species of lichens, they are also working to understand how various species are related to one another. By putting together a lichen family tree, they hope to understand why so many different types of lichens have evolved in so many places around the world.
Most research involves attempts to understand basic facts about the organisms and their interrelationships. But researchers are also teaming up with lichens to monitor the health of the environment, among other applications.
Tough work
Studying lichens is rarely easy. Most species depend on very specific conditions, and scientists can rarely get them to grow in laboratories. This provides lichenologists a great excuse to travel around the world, scouting new specimens and insights.
Lumbsch, for one, makes several trips to Australia and South America each year. In the field, he searches for a group of crusty lichens that tends to be quite tiny—usually less than a few millimeters long. Finding samples takes patience and a trained eye.
"You have to look very closely," Lumbsch says. "Usually, I know which species I'm interested in and which habitats they grow in. So, I go there and crawl on my knees on the forest floor with a hand lens."
Like many lichenologists, Lumbsch (far right) travels all over the world to collect specimens. This photograph was taken on a research trip to India in January 2008.
Thorsten Lumbsch
Spotting lichens is challenging enough. Identifying them is even harder. Many species look exactly alike, even when they are only distant cousins. Closely related species, meanwhile, can live in totally different environments, or on opposite ends of the Earth. (One species, for example, is found only near both poles.)
When they're done collecting samples, lichenologists bring their catch back to the lab. Under a microscope, the researchers classify samples by structure and color. Then, they grind specimens into a powder, from which they extract genetic material. These DNA molecules, which appear in all cells, make up genes, which determine how organisms look and work.
The more closely related two organisms are, the more similar their DNA will be. Comparing DNA from different species, then, can give scientists an idea of when each group split off from a common ancestor. Researchers use this information to build lichen family trees that depict kinship between species.
"Once we have these trees, we can ask a lot of interesting questions," Schmitt says.
For example, family trees can help explain what the first lichens looked like, how they have evolved over time, and how far any given species has moved around the globe. Such insights should provide a window into our planet's distant past. Some researchers think that lichens were the first organisms to live on land, long before plants evolved to do so.
"[Lichens] have an extremely long history," Schmitt says. "This is what we are trying to uncover by building family trees."
The work is slow going, she adds. "But we are beginning to see a picture emerging."
Environmental police
Despite their reputation as scientific curiosities, lichens have a practical side. Throughout history, people have used different species to make dyes for fabrics, poisons for arrowheads, and "green"-smelling scents for perfumes. Birds use lichens to make nests. Reindeer and other animals, including some people, eat them. (Don't try this at home—some species taste awful!)
In modern times, scientists have found a new role for these growths: as environmental watchdogs.
Although lichens can live in some of the harshest environments on Earth, Schmitt notes that they "are very sensitive to any kind of change that humans put on the environment."
Some species of lichen are highly sensitive to changes in the environment.
Tsnena/Wikipedia
Studies show that some species quickly disappear when exposed to air pollution. These sensitive types also suffer from habitat loss due to logging, construction, or other environmental disturbances. The presence of lichens in an ecosystem, then, generally signals that the air is clear and the environment healthy. Their disappearance, on the other hand, can be a warning sign.
Lichens are good monitors of air quality. In fact, studies have shown higher rates of lung cancer in people who live in areas where sensitive lichens have died off. As a result, Lumbsch says, some European cities require developers to confirm the presence of sensitive lichens as a sign of habitable air quality before building new homes. Where lichens reside, city planners can feel confident that homeowners will have good air to breathe.
Among other projects, Lumbsch and his colleagues are looking at the effects of climate changes on lichen populations. Some day, he says, lichens might add service as global-warming sentinels to their list of accomplishments.
Lichens have long been overlooked. Chat with a lichenologist, though, and you'll find plenty about these underappreciated growths to like, if not love!
---