These colorful butterflies were printed with transparent ink
Clear liquid creates different hues when printed in precise microscopic patterns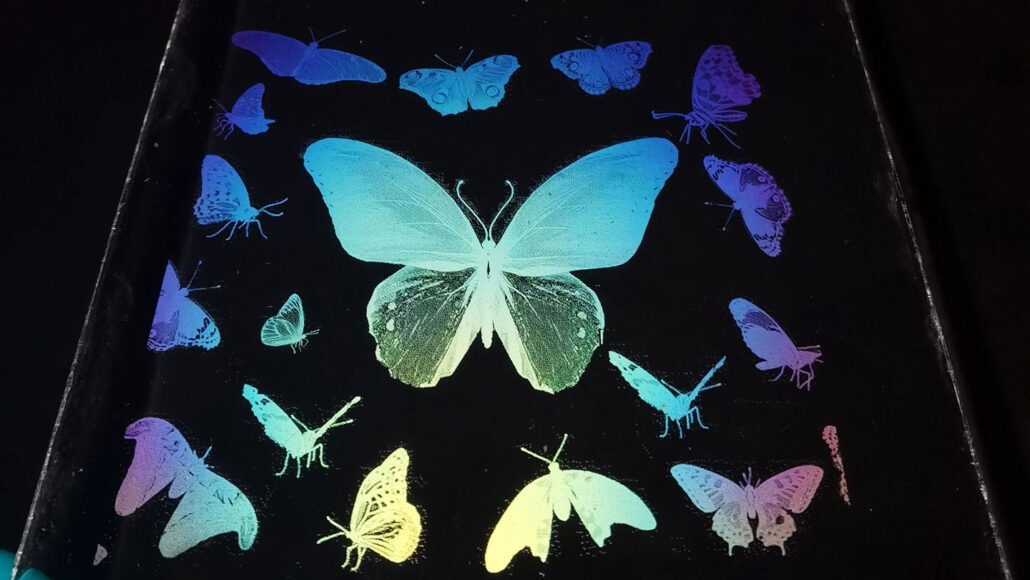 You may have seen or used disappearing ink. One minute you're writing, and the next — poof! Your words are gone. It's almost like magic. Now, scientists have performed perhaps an even more impressive trick. Using transparent ink, they have printed images in a full rainbow of colors. The key to this innovation: They print the clear liquid in precise microscopic patterns.
Those tiny patterns create what's known as structural color.
Unlike the dyes and pigments used to color most products, structural colors won't fade. And they don't use chemicals that can pollute the environment. Researchers in China wanted to use those features to create longer-lasting, more eco-friendly printing.
Structural colors arise from the way different colors — wavelengths of light — bounce off microscopic structures. "In nature, there are many beautiful structure colors," says Yanlin Song. He's a materials chemist at the Chinese Academy of Sciences. That's in Beijing. Some bird feathers and butterfly wings sport vibrant structural colors, he notes. This phenomenon also colors chameleons' skin and some flower petals. Educators and Parents, Sign Up for The Cheat Sheet
Weekly updates to help you use Science News Explores in the learning environment
Thank you for signing up!
There was a problem signing you up.
Song's team printed structural colors on transparent, flexible sheets of silicone. To do this, they used an ordinary ink-jet printer and a clear, nontoxic polymer ink. The printer studded the silicone sheets with millions of microscopic ink domes. Adjusting the size of each dome determined what wavelengths of light it would reflect. That, in turn, controlled the dome's color. Increasing a dome's width from 6.6 to 11 micrometers (260 millionths to 433 millionths of an inch) shifted its hue along the spectrum from blue to red and back again. Each dome acted like a single pixel, adding a tiny bit of color to a larger image.
The denser the ink domes were packed, the brighter an image became. Printing domes of several different colors across a single area created blended shades. For instance, combining red, yellow and green domes made brown. Adding domes with cooler tints, such as blue, tinted a picture gray. The researchers made portraits of physicist Isaac Newton and the Mona Lisa. They also printed pictures of Marilyn Monroe and other celebrities.


The team shared its results online September 22 in Science Advances.
"The printing speed needs to be improved," Song says. An image 2 by 2 centimeters across (0.8 by 0.8 inches) took about five minutes to make. The next step, he says, is to build faster printers that can quickly create large images whose hues come from structural color.
"I was excited to see that somebody had used [structural color] for this purpose," says Lauren Zarzar. She's a materials chemist who has studied structural colors cast by water and oil droplets. She works at Pennsylvania State University in University Park. "They had some nice examples that I think illustrated the versatility of this mechanism."
Zarzar imagines several uses for this technology. Printing many domes of different hues could create complex color signatures that would be hard to replicate, she says. Those signatures could be printed on ID cards or money. That might make it harder to counterfeit IDs or paper currency. "There's also a lot of decorative applications," Zarzar adds. "Cosmetics, decorations on clothing, car paints and decals. Things like that. It also can be used in architecture."
This is one in a series presenting news on technology and innovation, made possible with generous support from the Lemelson Foundation.