Widely used pesticides may threaten Earth's ozone layer
These copper-based chemicals can react with soil's carbon to make ozone-destroying gases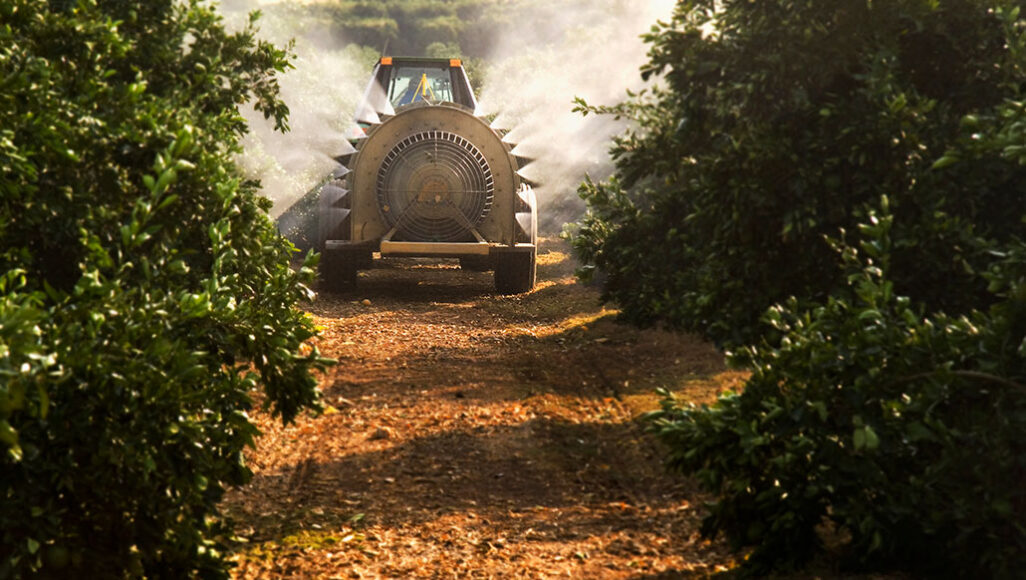 For more than a century, farmers have protected their crops using copper-based chemicals. These pesticides ward off insects and fungi that would damage the plants, boosting harvests. But there's a catch. These chemicals also may react with soil to release gases that harm Earth's ozone layer. That's the finding of a new study.
"We've been using copper compounds since the 1800s without fully realizing some of the side effects," says Robert Rhew. He's a biogeochemist at the University of California, Berkeley.
Rhew's team found that copper-soil reactions produce two compounds. One is methyl bromide, which contains bromine. The other is methyl chloride, which contains chlorine. Bromine and chlorine are both highly reactive elements called halogens that share several common traits. One is the ability to form compounds that destroy ozone. As a result, methyl bromide and methyl chloride can both damage ozone in Earth's atmosphere. That ozone shields life on Earth from the sun's harmful ultraviolet rays.
"Copper was considered environmentally friendly," Rhew says. "It probably still is, compared to some alternatives." But, as his team now shows, copper-based chemicals may threaten a critical region of Earth's atmosphere. The findings appeared in the January 10 Nature Communications.
Pumping out halogens
The idea that copper, soil and halogens in the atmosphere may be linked came from a 20-year-old study. In that research, a German team discovered that iron in soil reacts with other soil components. Those reactions can produce methyl bromide and methyl chloride. Copper, like iron, is a metal. Rhew's team wondered whether copper might react with soil to create the same halogens?
To find out, they added copper sulfate — the main ingredient in many copper-based pesticides — to soil. The team then measured gases released from the soil. The researchers tested soil with and without bacteria. They also studied soil exposed to sunlight or not.
In all conditions, copper reacted with organic matter in soil to help form halogen gases. What surprised everyone was the high volume of gases. Says Rhew, it was "enough to knock our socks off!"
Copper's reactions released more than iron's. Based on these data, Rhew's team estimate the amount of gas that copper-soil reactions could release into the air each year. Worldwide, it comes to some 4,000 metric tons of methyl bromide. On top of that, it could spew another 2,500 metric tons of methyl chloride.
The role of copper
Before these experiments, it was hard to guess how much halogen gas a copper-soil mix would create. After all, copper sulfate contains only copper, sulfur and oxygen atoms. It does not contain any carbon, hydrogen, bromine or chlorine. Those are the atoms that make up the methyl bromide and methyl chloride released into air. The starting and ending molecules, Rhew explains, simply "don't share any atoms with each other."
Soil, it turns out, provides all the atoms needed to create the halogen-based compounds. Copper just puts those molecules together. The copper sulfate does that by snatching up some of the soil's electrons. This is an example of a redox reaction.
But wait, it gets worse. Soils can continue to release halogen-containing gases long after copper-based chemicals have broken down. Why? Sunlight can re-activate the copper. This keeps the halogen-making reactions going. "With the sunlight effect, the reactions are much greater and go on for much longer," Rhew explains.
Frank Keppler was a geochemist on the German team. "It took 20 years," he says, "but I was really happy to see [our] work evolving." Keppler works at the University of Heidelberg. The novelty of the copper study was connecting halogenated gases with human activity, Keppler says. His group's iron study had focused on all-natural reactions in soil. Educators and Parents, Sign Up for The Cheat Sheet
Weekly updates to help you use Science News Explores in the learning environment
Thank you for signing up!
There was a problem signing you up.
Human threats to stratospheric ozone
In 1985, scientists discovered that ozone in Earth's stratosphere was thinning. This was especially true over Antarctica. Scientists referred to this thinning as a "hole" in the ozone layer. (There was always some ozone there. But it was a lot less than normal.) For decades, halogens had been destroying the high-flying ozone. The major sources of those halogens, scientists learned, were gases released at Earth's surface by humans.
One main contributor was a type of refrigerant used in air conditioners. These chemicals had a long name: chlorofluorocarbons (Klor-oh-FLOOR-oh-kar-bunz). They're known as CFCs for short. These CFCs and other chemicals were eating up so much atmospheric ozone that in 1987, all 198 members of the United Nations agreed to ban them. Called the Montreal Protocol, this treaty became the first in history to win support from all countries.
The ban likely headed off disaster. The hole in the ozone layer has since started to heal. But the ozone layer is taking a long time to recover, notes Susann Tegtmeier. She's a climate scientist at the University of Saskatchewan in Canada. "We still see an ozone hole over the Antarctic every winter," she says.
The continued release of chlorine and bromine won't help. These halogens are highly effective ozone-destroyers. That's because when halogens destroy ozone, Tegtmeier explains, "they do so catalytically." That is, the halogens survive the reaction. So halogens in the atmosphere can destroy ozone molecules again and again.
After CFCs were banned, methyl bromide and methyl chloride became the new major sources of halogens in the atmosphere. Volcanoes could have spewed some. But not enough to explain the levels seen in the atmosphere. The new study shows that copper-based chemicals may account for about 10 percent of the gases' mystery sources. Other sources of copper may add more halogenated gases to the atmosphere. These sources may include copper-based antifungal paints for boats.
What's next?
"Some field studies might be great," says Tegtmeier. She's curious how much these copper-soil reactions occur in nature. After all, a lab environment is simple and controlled. Nature isn't. Different soils around the world may have different reactions with copper chemicals. "The big question," she says, is "what does this mean globally?"
If copper-based pesticides make ozone-destroying gases, society must manage these chemicals more carefully. Methyl bromide needs particular attention. Bromine has the potential to destroy more ozone than chlorine does. One molecule of methyl bromide in the stratosphere, is about equal "to 50 methyl chlorides," says Martyn Chipperfield. He's an atmospheric chemist not involved in the study. He works at the University of Leeds in England.
For Rhew, the big takeaway is that even chemicals long assumed to be eco-friendly can harm the environment. Moving forward, Rhew says, "when we talk about the environmental impacts of adding something to nature, we can't assume that we know everything right off the bat. Some consequences are invisible."